Gigabyte Technology and AOpen are exhibiting pico-BTX systems at the ongoing Computex 2005 show, with Gigabyte marketing its system for its ease of assembly, while AOpen expects the performance of its dual-core pico-BTX systems will boost its sales. BTX systems from both companies, however, do share a common feature in their cold metallic designs.
Gigabyte has named its pico-BTX solution the CB series, and the Intel 915G-based system supports a 800MHz FSB, up to 2GB of memory, one PCI Express (PCIe) graphics card, one ATA hard drive and two SATA disks. The system is powered by a 270-watt power supply.
The CB series also has one PCI slot, two rear USB ports, Gigabit LAN and front-side access for USB, IEEE 1394 and a 13-in-1-card reader.
However, the key feature of the CB series is that no tools are needed for assembly. The system folds open, and then by using a series of sliding clips and latches, users will be able to install and secure two optical drives (ODDs), an IDE hard drive and all other components.
According to the sales representative at the Gigabyte booth, the pico-BTX solution will have no trouble handling high-end graphics cards and will run at about 30-35dB. Although the design may seem drab, the system is definitely sturdy.
The CB series will begin shipping in volume by the end of this month and Gigabyte is targeting the DIY market with the product, sources at the company stated.
AOpen has also designed its BTX system chassis using a mix of black and metallic-colored grating, with AOpen's pico BTX solution being based on the Intel 945G chipset and supporting dual-core Pentium D processors. The company has also designed a pico-BTX EPC (entertainment PC) based on the same board.
Both of AOpen's pico-BTX solutions will begin shipping in July, sources at the company stated.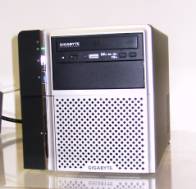 Gigabyte CB series
Photo: Michael McManus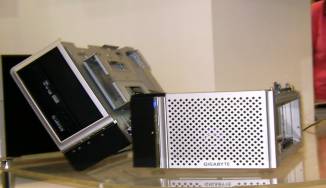 Folding open
Photo: Michael McManus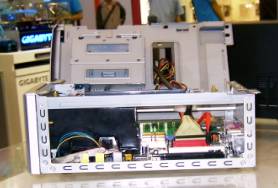 CB innards
Photo: Michael McManus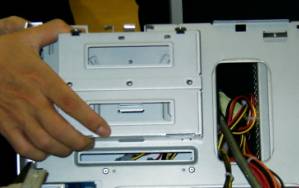 Sliding latch here to remove drive
Photo: Michael McManus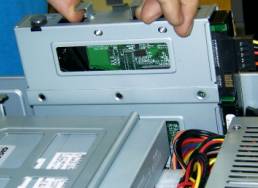 Connecting clips for securing drives
Photo: Michael McManus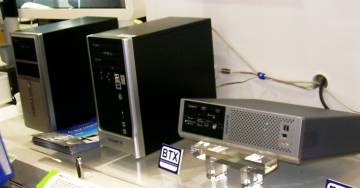 Gigabyte BTX family
Photo: Michael McManus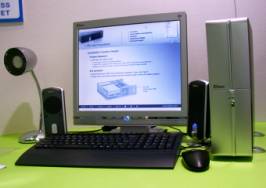 AOpen pico-BTX
Photo: Michael McManus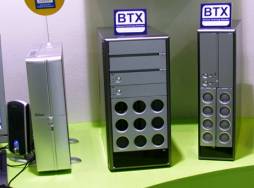 AOpen BTX family
Photo: Michael McManus