BenQ demonstrated its BW1000 prototype blue-laser DVD burner at the recently concluded Computex 2005 and the company plans to start volume producing the product in the first or second quarter of 2006, depending on how quickly the market for blue-laser products develops.
The BW1000 features writing speeds of 2x for Blu-ray single-layer and DL (single-sided double-layer) discs, 12x for DVD+R/-R, 4x for DVD+R/-R DL, 4x for DVD+RW/-RW, 32x for CD-R and 24x for CD-RW, as well as reading speeds of 2x for Blu-ray, 12x for DVD and 32x for CD, according to BenQ.
Single-layer Blu-ray discs will have a storage capacity of about 25GB while DL versions will have a capacity of 50GB, so the BW1000 will target high-density applications such as HDTV (high-definition TV) recording and playback, the company stated.
BenQ also showcased two DVD burner models (DQ60 and DW1640) at the show, with the DQ60 being BenQ's first three-format (+R, -R and -RAM) drive. The DVD drive also features drag-and-drop data recording, so burning software is not necessary, BenQ pointed out. The model will be launched at the end of this month.
Although BenQ began volume producing the DW1640 last month, the company added -R DL writing functionality to the model presented at Computex, BenQ indicated.
In related news, Toshiba displayed a prototype HD-DVD (high-definition DVD) player model at the Computex show.
BenQ DVD burners

Specification

DQ60

DW1640

Writing speed

DVD+R DL

8x

8x

DVD-R DL

4x

4x

DVD+R

16x

16x

DVD-R

16x

16x

DVD+RW

8x

8x

DVD-RW

6x

6x

DVD-RAM

5x

-

CD-R

48x

48x

CD-RW

24x

32x

Reading speed

DVD

16x

16x

CD

48x

48x

Manufacturer's recommended retail price (US$)

99

99
Source: BenQ, compiled by DigiTimes.com, June 2005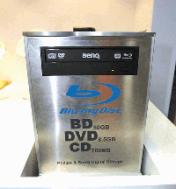 BenQ BW1000 Blu-ray DVD burner
Photo: Evan Chao, DigiTimes