Shuttle anticipates that demand for BTX (Balanced Technology Extended) systems will not pick up until next year, while projecting that 5% of the 750,000 XPCs it expects to ship this year will be BTX systems.
The company will roll out three new BTX XPCs this year, each of which will be built using the pico-BTX form factor, according to Ken Huang, company vice president of systems development unit. Huang indicated that Shuttle has no plans to introduce any XPCs built using the slightly larger micro-BTX form factor.
Huang stated that demand for the systems will grow starting next year, as consumers still need to be educated about the Intel-developed standard and a greater supply of components need to be made available in the market.
For most companies it is still relatively cheaper to produce products using ATX standards, as power supplies and heat dissipation modules for the BTX platform are still US$10-20 more expensive than similar products used on the ATX platform, Huang claimed.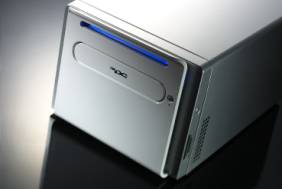 Shuttle's perspective on BTX
Source: company