Micro-Star International (MSI) recently announced its latest small-form-factor (SFF) PC, the Mega PC 865 Pro, a consumer oriented multimedia SFF PC. MSI is also looking to expand its own-brand business by extending the Mega brand to new products such as notebooks, MP3 players and portable video players.
The Mega PC 865 Pro will be targeted to mainstream users and aims to take advantage of the convergence of PC and consumer electronics devices. Based on the Intel 865G chipset, the system features an instant-on DVD player, as well as support for FM radio and TV. MSI has also added new audio features to the Mega PC 865 Pro, as well as equipping it with a wireless 802.11g card.
The company introduced its first Mega PC SFF PC last year and the product line represents MSI's goal to establish its own-brand in the market, as well as building up its barebones business.
This year, the company extended its barebones offering from SFF PC to more traditional barebones products, including ATX and micro-ATX units. Although a market leader in the motherboard market, MSI did not produce barebones units for the mainstream market until this year, and will now compete against Asustek Computer, Gigabyte Technology and First International Computer (FIC). In past years, MSI only produced barebones units for the vertical market, and the company still ships about 100,000 units per year to that segment.
At CeBIT this year, MSI is also offering various new own-brand products, including its Mega View 567 portable MPEG player, the Mega Stick 528 MP3 player, and the Mega Book M525, a Sonoma-platform notebook.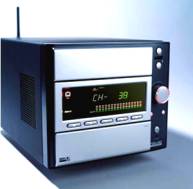 Mega PC 865 PRO
Photo: Company