193 news items tagged E Ink
Rimowa and Lufthansa have jointly launched the Rimowa Electronic Tag, a mobility solution for luggage that features an embedded digital bag tag and incorporates E Ink Mobius techno...

E Ink Holdings (EIH) has reported its revenues in the second quarter of 2015 reached NT$3.479 billion (US$106.95 million) and EPS of NT$0.09.

Electrophoretic technology-based electronic paper (e-paper) display maker E Ink Holdings will showcase a variety of applications of e-paper display technology at the Touch Taiwan...

E Ink expects electronic shelf labeling (ESL) shipments to increase threefold in 2015 driven by increased low-cost solutions and advanced technology, according to the company.

Ueberall International, an experiential design firm, and E Ink Holdings (EIH) have announced eFLOW, an interactive sculpture consisting of 52 strips of E Ink Prism 16 feet long and...

E Ink Holdings (EIH) has announced the expansion of its E Ink Spectra product line to include yellow. Spectra yellow gives retailers further choices in how they use electronic shelf...

Capital expenditures from E Ink Holding (EIH) are on the decline, and are expected to reach below the NT$553 million (US$18.13 million) mark the company put forth in 2014.

E Ink Holdings (EIH) has reported its fourth-quarter 2014 consolidated revenues reached NT$3.717 billion (US$118.8 million) while its revenues for 2014 reached NT$14.571 billion.

E Ink is looking to expand its business further into the medical, retail, industrial and home industries with prospects aimed at smart devices and other EPD-based displays.

Electronic paper maker E Ink Holdings on December 3 announced an initiative to give E Ink's hardware partners the option to offer their customers access to Kobo's catalog of more...

Russia-based smartphone vendor Yota on December 3 will unveil the YotaPhone 2, a dual-touch screen smartphone with a front 5-inch 1080p AMOLED panel supplied by Samsung Display, and...

E Ink has reported its third-quarter 2014 revenues reached approximately NT$4.07 billion (US$132.95 million), with an EPS of NT$0.09.

E Ink Holdings is likely to see its business for the second half of 2014 swing to profitability mainly due to growing orders for electronic tags from the US and Europe, and increased...

Today OAXIS launches its campaign on crowd funding site Kickstarter to bring the InkCase+ to life. Starting from $79 for the very early bird special, InkCase+ is a removable 3.5-inch...

E Ink Holdings (EIH) on June 3 announced a 32-inch color or black & white e-paper display mainly for digital signage and information kiosks.

LCD driver IC vendor UltraChip has debuted on Taiwan's over-the-counter (OTC) securities market at an initial price of NT$11.50 (US$0.38).

E Ink is trying to catch up with orders for EPDs in the fourth quarter of 2013 due to lack of manpower in China, the company said at a recent investors conference.

E Ink Holdings has announced the mass production release of E Ink Carta, the company's next generation electrophoretic display (EPD) technology. Carta sets a new standard as the whitest...

Electrophoretic display (EPD) maker E Ink Holdings has reported consolidated revenues of NT$2.928 billion (US$98 million) for the second quarter, decreasing 45.56% sequentially and...

E Ink has announced it will release the E Ink Aurora, an electronic paper display (EPD) able to withstand the temperatures found in freezers. The new solution provides retailers and...

E Ink has introduced the E Ink Spectra, a three pigment electronic paper display (EPD), featuring black, white and red pigments. Spectra is currently being shown at SID Display Week...

E Ink Holdings has announced the upcoming release of E Ink Mobius, a new flexible e-paper display (EPD) technology. The company claimed E Ink Mobius will be the first flexible display...

Taiwan-based EPD (electrophoretic display) maker E Ink Holdings (EIH) will raise additional paid-in capital through issuing up to 60 million new shares for private placement, according...

Amazon Kindle e-book reader panel shipments reached about 750,000 units in January 2013 followed by 420,000 units in February. The shipments are expected to drop even further to 20,000...

E Ink Holdings has reported consolidated revenues of NT$1.431 billion (US$48.2 million) for February 2013, decreasing 44% on month but increasing 33% on year, and those of NT$4.003...
Related photos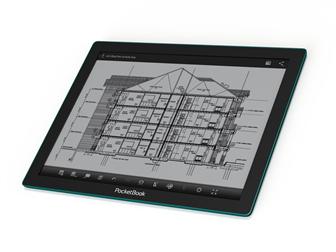 PocketBook CAD Reader equipped with E Ink Fina
Photo: Company, Wednesday 4 December 2013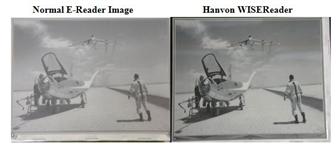 CES 2011: Hanvon 9-inch, high-resolution WISEreader
Photo: company, Monday 10 January 2011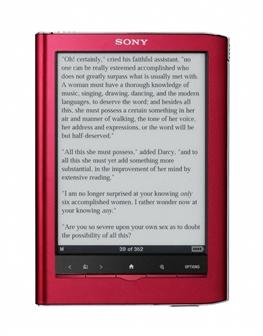 Sony e-book reader, the PRS-650 Touch Edition
Photo: Company, Tuesday 14 September 2010
Related news around the web