156 news items tagged monitor panel
Taiwan's PC monitor shipments continued enjoying on-year growth in the first quarter of 2019, rising 5.6%.

Taiwan's large-size panel shipments dropped 12.8% sequentially and 7.5% on year to come to 54.4 million units in the first quarter of 2019.

Prices of LCD monitor panels are likely to stop falling soon as more flat panel makers are shifting more capacities of their 6G-8.5G fabs to the production of TV applications whose...

Prices for gaming monitor panels have been falling as more China-based flat panel makers have jumped on the bandwagon heating up competition, according to industry sources.

With weak seasonal demand, Taiwan's large-size LCD panel shipments dropped 3.7% sequentially to arrive at 62.38 million units in the fourth quarter of 2018.

Having already served as the top panel supplier for smartphone, tablet and notebook applications, BOE Technology has also managed to outrace LG Display to become the world's largest...

Panel pricing is showing declines and is expected to continue trending down throughout mid-June, with most applications declining US$0.50-1, according to DisplaySearch. In the monitor...

Prices for 21.5- and 23.8-inch LCD monitor panels in May dropped US$1.0-1.50/panel and those for 19.5-, 23- and 27-inch models by US$0.8-1.0/panel, according to WitsView.

LCD monitor shipments are expected to drop 6% in the first quarter of 2015 and prices for 19.5- and 21-inch LCD monitor panels are expected to drop US$0.70-0.80, according to WitsV...

Panel makers are seeing increased orders for curved Ultra HD monitor panels as Samsung Electronics, LG Electronics, Sharp, Acer, Dell and Asustek Computer expand their monitor line...

Supply for LCD monitor panels is being pushed down by production of TV, notebook and small- to medium-size applications, which will lead to a 9.2% sequential decline in supply as...

Because panel makers have focused production on LCD TV panels, supplies of 19-, 19.5-, 21.5-, 23-, 23.6- and 27-inch LCD monitor panels have been tight, and consequently prices have...

Inventories of 19.5W- and 23.6W-inch monitor panels are currently low and supply is tight, according to WitsView. As a result, monitor brands are turning to 20W- and 24W-inch panels...

Taiwan-based panel makers saw an 18% on-quarter increase in monitor panel shipments during the second quarter of 2013.

In first-half 2013, global panel makers saw shipments rise due to China's Labor Day holidays in May. Industry sources predicted sales growth of FPD TVs in China during the May Labor...

While pricing for some TV panels has recently took a hit, LCD monitor panel prices are expected to remain stable as panel makers have reportedly been taking strict measures to control...

TV panel prices are expected to drop another US$1-2 during the end of February 2013 while LCD monitor panel prices are expected to drop 1% or US$0.50, according to market observers...

South Korea-based firm LG Electronics continues to strengthen market share in Taiwan. In 2011, LG took the largest share in Taiwan's LCD TV market. The firm continues to expand product...

AMOLED has been seen as the future for panels displays. South-Korea based firms LG Display and SMD have been setting up AMOLED production lines aggressively. US- and Japan-based firms...

Chimei Innolux (CMI) has announced combined TFT-LCD revenues of NT$130.39 billion (US$4.42 billion) for the fourth quarter of 2010, a decrease of 4.9% sequentially.

LCD monitor panel prices are expected to start rising in March 2011, and the prices for LCD TV panels are expected to increase in April-May, while prices for notebook panels are expected...

Global large-size TFT-LCD panel shipments reached a record high of 665 million units in 2010, with strong growth in TV, notebook, tablet PC, and public display applications, according...

Weak demand in the end-product markets seems to be slowing price movements of large-size LCD panels. In December, notebook panel prices remained unchanged or rose by 1% from the previous...

Due to Chimei Innolux (CMI) increased production of LCD monitor panels, panel makers desire to increase overall monitor panel prices have been unsuccessful.

LG Display has reported sales for the fourth quarter of 2010 decreased 3% to KRW6.48 trillion (US$5.77 billion) from KRW6.7 trillion in the third quarter of 2010, but increased by...
Related photos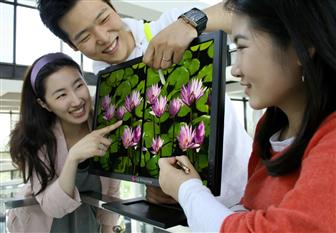 LG Display 21.5-inch full HD optical touch LCD monitor panel
Photo: company, Thursday 20 May 2010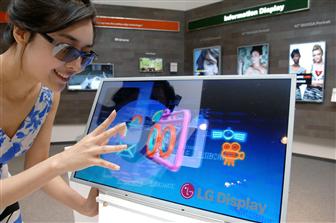 LG Display full HD 3D monitor panel with enhanced brightness
Photo: Company, Friday 5 June 2009