43 news items tagged startup
The Cloud Computing and IoT Association in Taiwan (CIAT) is actively promoting the development of SIGs (special interest groups) in four major areas - IoT information security, AI...

Taiwan's National Development Council (NDC) has relaxed regulations on applications for funding under its jurisdiction to better support and encourage investments in AI (artificial...

Hong Kong-based notebook brand startup Nexstgo is showcasing its new enterprise notebook, the Nexstgo Primus, smart IoT devices, Avita Imago and other Avita series products at CES...

Taiwan businesses have performed aggressively in conducting mergers and acquisitions (M&A) at home and abroad over the past year, and a spate of factors such as cross-domain integrations...

With AI (artificial intelligence) as a core technology to drive the development of digital economy, the Singapore government is making all-out efforts to develop AI tech innovations...

Hong Kong-based notebook brand startup Nexstgo has announced its Liber series consumer notebooks under its Avita brand in Taiwan and will launch its enterprise SU and NS series products...

Statistics from US-based research body CB Insights show that non-US unicorn startups commanded a 50% share of total global unicorns as of the end of August 2017, sharply up from only...

China AI startup Cambricon Technologies aims to capture a 30% share of the China market for AI chips within three years, expecting more than one billion devices to adopt AI processors...

Testing equipment and solutions supplier Chroma ATE is actively moving to incorporate AI (artificial intelligence) into its products and pursue smart manufacturing operations by investing...

After scoring impressive achievements at the end of its first implementation year in early September 2017, the Taiwan government's Asia Silicon Valley Development Plan (ASVDP) is...

Thanks to drastic advancement in the performance of computers and processors, the application of AI (artificial intelligence) technologies will surely witness explosive growths in...

IoT (Internet of Things) applications took center stage at the 2017 Cross-Strait Startup Competition that just wound up its three-month run in late August at Shanghai Jinshan Cross-Strait...

While AI (artificial intelligence) has quietly penetrated various fields of human life and bring brand-new dialogue models between machine and mankind, the visual recognition AI technology...

Plug and Play Tech Center, claimed as the world's biggest startup accelerator and most active venture capitalist based in the Silicon Valley, is studying the feasibility of setting...

China-based AI (artificial intelligence) chip startup Cambricon Technologies expects to roll out hundreds of millions of AI SoCs needed for smart terminal devices and servers in...

EPD (electrophoretic display) e-paper startup Linfiny, a joint venture between E Ink Holdings (EIH) and Sony Semiconductor Solutions, will officially kick off its operations in the...

China's e-car startup Singulato Motors is scheduled to start volume production of smart cars capable of Level 3 (partial) autonomous driving in 2018, and roll out cars with Level...

China-based AI chip startup Cambricon Technologies has newly raised US$100 million in series A round funding to support its development of advanced AI chips, which is expected to...

Power discrete component supplier HY Electronic plans to be listed on the Taiwan Stock Exchange (TSE) between late third-quarter and early fourth-quarter 2017, according to the Cayman-incorporated...

Taiwan's National Development Council (NDC) has decided to make direct investments in tech startups, instead of offering them subsidies as done in the past, aiming to build sound...

Tusimple, a Beijing-based startup focused on developing autonomous trucks, has disclosed that Nvidia will make a strategic investment to take a 3% stake in the company. Nvidia's investment...

Young startup talent across the Taiwan Strait have amassed strong innovation momentums in IoT, AR, and VR applications as well as 3D printing, smart retail, smart living, and Internet+...

Taiwan's government is very likely to complete raising NT$4 billion (US$130 million) in venture capital fund dedicated to investment in IoT (Internet of Things) startups by the end...

Credo Semiconductor, a developer of serializer-deserializer (SerDes) circuits, technology and IP cores, and Foxconn Interconnect Technology, a supplier of interconnect solutions,...

Former HTC North Asia president Jack Tong has announced the establishment of JPW International Technology, a startup to develop and promote VR (virtual reality) motion solutions and...
Related photos
Nexstgo Avita Liber notebooks
Photo: Shihmin Fu, Tuesday 12 December 2017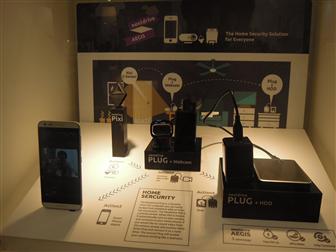 NextDrive Plug wireless USB device manager
Photo: Joseph Tsai, Wednesday 10 June 2015
Related news around the web