19 news items tagged public display
Innolux has begun shipping active matrix (AM) mini LED-backlit PID (public information display) products and is also teaming up with brand vendors such as Sharp to promote 8K displays...

Taiwan's LCD panel makers are revving up efforts to tap the lucrative market for public information displays (PIDs), which carry higher gross margins and are increasingly needed to...

Innolux has revealed it will present its latest series of high-end TV display module, quantum dot display, bezel-less smart display product and TV screen joint by ultra narrow bezel...

Global demand for large-size public display and digital signage products is set to grow steadily in years to come, fueled by the rise of new human-machine interaction and retail models,...

Overall public display shipments and revenues will rebound in 2016, as regional economies recover and more large projects are installed. In fact, shipments of public displays are...

According to DisplaySearch, on-year public display shipments grew 16% in the third quarter of 2014, and LCD public display shipments alone grew 18%, while plasma public display shipments...

BOE is extending its influence in the China panel market by developing new public display solutions sized 10.1- to 21.5-inch in the transportation segment.

Taiwan makers expect 15% growth in TV panel surface shipped in 2014 driven by shipments of larger-size TVs.

As the global large-screen public flat-panel display (FPD) market is rebounding, with an estimated almost 30% growth expected to occur in 2015, vendors estimate their shipment proportion...

The global large-screen public flat-panel display (FPD) market is rebounding after declines in 2012 and flat growth in 2013. According to DisplaySearch, the market is expected to...

After a year of flat growth in 2013, the global public display market is expected to rebound in 2014 and grow 19% on year as global economic conditions improve, emerging markets increase...

Global revenues for LCD public display shipments rose 22% from US$733.6 million in first-quarter 2012 to US$896.9 million in first-quarter 2013, according to DisplaySearch. Unit shipments...

The global large screen public display market is forecast to grow at 23% compounded annually from 2013 through 2017, according to research firm DisplaySearch. The growth comes after...

Seoul, June 7, 2010 - Samsung Electronics Co., Ltd., a market leader and award-wining innovator in consumer electronics, has launched the world's first eco-friendly and large format...

Advertising revenues from about 585,000 LCD and LED public displays around China totaled 1.466 billion yuan (US$215 million) in the third quarter of 2009, up 0.4% sequentially but...

Global flat panel display (FPD) revenues may rise only at a compound annual growth rate (CAGR) of 1% each year from 2008 to 2016 after rising at 20% from 2000 to 2008, according to...

AU Optronics (AUO) will introduce its latest technologies and products at the upcoming Display Taiwan 2009 on June 10-12. The exhibition is divided into nine sections: public information...

With 2008 sales of flat panel TVs behind expectations, alternate markets for larger-size flat panel displays like commercial-use advertising and communication are starting to pique...

Genesis Photonics is seeing China's public displays market driving its LED chip shipments, with its September revenues standing a good chance of hitting a new record for the seventh...
Related photos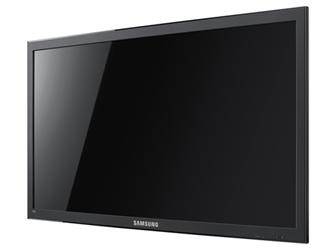 Samsung EX series LED-backlit large format display
Photo: company, Monday 14 June 2010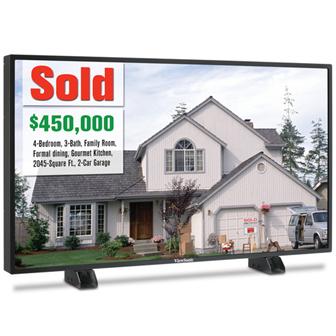 ViewSonic CD4230 ultra-thin bezel commercial LCD display
Photo: Company, Tuesday 7 April 2009