49 news items tagged Nano
VIA Technologies has announced the new VIA EPIA-M830 Mini-ITX board. Designed specifically to meet the needs of next generation kiosk, POI and POS applications, the VIA EPIA-M830...

VIA Technologies has announced its Nano E-series processors, bringing native 64-bit software support, virtualization capabilities and extended longevity support to embedded markets...

The board of directors of backlight unit (BLU) makers Forhouse and Taiwan Nano Electro-Optical Technology, subsidiaries of AU Optronics (AUO), have decided to merge the two companies...

The National Nano Device Laboratories (NDL) in Taiwan plans to forge an R&D alliance of the country's major semiconductor makers focusing on the development of 15nm chip components,...

VIA Technologies has introduced its new VIA Nano 3000 series processors, bringing digital media performance and low power consumption to Windows 7-based ultra-thin notebook and all-in-one...

Taiwan-based optical lens maker Genius Electronic Optical is the only ODM supplier of optical lens kits for use in the built-in camera of the new iPod nano version unveiled by Apple...

VIA Technologies has posted revenues of NT$365 million (US$11.09 million) for August, a drop of 11.38% on month and 49.94% on year. Combined revenues for the first eight months of...

Lenovo recently launched is IdeaPad S12 U2250 netbook featuring VIA Technologies' Nano processor, a 12.1-inch LED-backlit screen, 2GB memory and a built-in 1.3-megapixel web camera...

Wandering the halls of Computex 2009 it does not take long to realize that there has been a recent explosion of vendors trying to tap the all-in-one PC market. All the well-known,...

VIA Technologies has announced the adoption of its Nano processor platform in the latest high-density server product from Dell's Data Center Solutions Division. The XS11-VX8 is an...

Taiwan-based backlight unit (BLU) makers have reported mixed results for the first quarter of 2009, with the top maker Coretronic seeing revenues more than double compared to the...

Intel has recently started supplying its Atom N270 processor to white-box netbook vendors in China, according to a Chinese-language Commercial Times report. Since the N270...

VIA Technologies has announced the VIA VX855 media system processor (MSP) – a power efficient, all-in-one chipset that addresses the key performance and entertainment requirements...

VIA Technologies is expected to ship 150,000-200,000 units of its Nano U225 processors for Samsung's 12.1-inch NC20 netbooks in the first quarter of 2009, according to market sources...

Foxconn Electronics (Hon Hai Precision Industry) and Shuttle are both planning to launch mini desktop PCs using VIA Technologies' Trinity platform, according to a Chinese-language...

VIA Technologies has recently notified its partners that the company plans to launch the next-generation Nano 3000 series CPU in the third quarter of 2009, while engineering samples...

During the time when CPU players were searching for ways to break the highest frequencies possible, VIA Technologies decided to steer its CPU development in a completely different...

Acer is planning to launch a low-power and low-cost 1-liter nettop at the beginning of 2009, according to sources at OEM providers.

VIA Technologies has announced the establishment of Global Mobility Bazaar (GMB), which will function similar as Intel's Common Building Block (CBB) for white box netbook market,...

Hewlett-Packard (HP) has reportedly recently place orders for VIA Technologies' Nano CPUs the chipmaker has already started shipping. However, it is currently unknown whether HP will...

VIA Technologies announced its revenues for June were NT$568 million (US$18.69 million), a drops of 7.3% on month and 58% on year.

Backlight unit (BLU) makers, Radiant, Nano and Coretronic are seeing their June revenues go down due to annual taking of inventory by panel makers, according to industry sources....

VIA Technologies held a launch party today (June 5) to officially announce its new VIA Nano processor (Isaiah) and a new standard for small form factor motherboards, Mini-ITX 2.0...

VIA Technologies has officially announced the name and availability of its next-generation Isaiah CPUs. VIA Nano CPUs will offer four times of performance of the company's C7 series,...
Related photos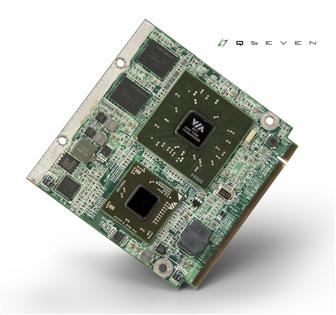 VIA QSM-8Q90 system-on-module solution
Photo: Company, Thursday 29 March 2012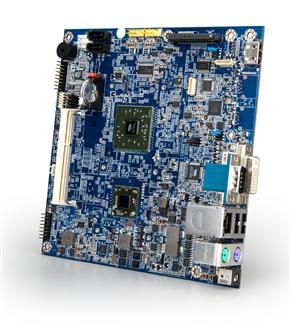 VIA VB8004 Mini-ITX motherboard
Photo: Company, Tuesday 9 August 2011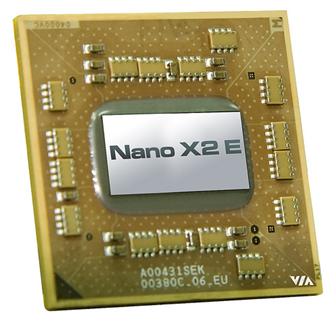 VIA dual-core Nano X2 E-series processors
Photo: Company, Tuesday 3 May 2011
Related news around the web