101 news items tagged Apple Watch
The worldwide wearable device market recorded its eighth consecutive quarter of steady growth in the first quarter of 2015. According to the IDC Worldwide Quarterly Wearable Device...

The wearable band market grew over 150% as more than seven million units were shipped in the first quarter of 2015, according to Canalys.

Commenting on rumors that the Apple Watch has a poor yield rate, and that Apple is considering outsourcing related orders to other manufacturers and has even asked employees of Foxconn...

The Apple Watch has the lowest hardware costs compared to retail price of any Apple phone IHS Technology has researched, according to a preliminary estimate by IHS. The teardown of...

Global tablet shipments are expected to stay flat from a quarter ago and reach 49.31 million units in the second quarter of 2015, but compared to the same quarter a year ago, the...

In view of better than originally expected pre-orders for Apple Watch, wearables vendors have adjusted their plans to launch smartwatches and wrist bands in an attempt to avoid direct...

Quanta Computer has reported 2014 revenues of NT$926.32 billion (US$29.6 billion), up 5.2% from a year ago and EPS of NT$4.90, up from NT$4.84 in 2013. However, in the fourth quarter,...

Following low yields for the Apple Watch in the first quarter of 2015 that reportedly were mostly below 50%, supply chain makers for the device including touch panel maker TPK have...

A number of supply chains in Taiwan, including those for touch panels, system assembly, NFC chips, wireless charging and flexible PCBs, are to benefit from the release Apple Watch...

A total of 30.8 million millimeters of two-inch equivalent sapphire ingots will be used for Apple Watch covers in 2015. This accounts for 18% of sapphire ingots produced worldwide...

Apple Watch is likely to become the top player in the smartwatch market following it official debut on March 9 although it came late compared to rival vendors including Samsung Electronics,...

Apple has announced that the Apple Watch will be available on April 24 to customers in Australia, Canada, China, France, Germany, Hong Kong, Japan, the UK and the US.

As some Apple Watch series will be equipped with covers made from sapphire, Lens Technology and Biel Crystal Manufactory, two China-based cover glass makers, are expected to become...

Apple is expected to unveil the Apple Watch on March 9. Shipments will reach 4.8 million units in the first quarter and about nine million in the second, according to sources in the...

Taiwan-based IC substrate supplier Kinsus Interconnect Technology and flexible PCB makers Zhen Ding Technology Holding, Career Technology and Flexium Interconnect reportedly have...

The Apple Watch will ship over 15 million units worldwide in 2015, according to Strategy Analytics. Apple will quickly become the world's number one smartwatch vendor and capture...

Commenting on the company's outlook for 2015, Foxlink chairman Guo Tai-qiang has said that wearable devices and USB Type-C connectors will become growth drivers for Foxlink.

Over 720,000 Android Wear devices were shipped in 2014, when a total of 4.6 million smart wearable bands were shipped, according to Canalys.

Samsung Electronics' 28nm process technology has reportedly obtained orders for the Apple Watch set for launch in March 2015. The orders call for 3,000-4,000 12-inch wafers monthly,...

Following a pilot production at the end of 2014, Apple's new 12-inch MacBook Air is expected to enter mass production in the first quarter of 2015, according to sources from the upstream...

Chip suppliers involved in the supply chain of the Apple Watch are gearing up to start production for the upcoming wearable device, according to industry sources.

Under large pressure due to booming sales of iPhone 6 and iPhone 6 Plus, and new iPad models possibly to be launched in the fourth quarter and Apple Watch expected to be launched...

Quanta Computer's plants in Changshu, China have reportedly started hiring workers for mass production of the Apple Watch. Market watchers estimate the wearable device's sales to...

As smartphone vendors and component suppliers continue to expand into the wearables market, Gartner predicts that by 2016 smartwatches will comprise about 40% of consumer wristworn...

LG Display will supply Apple AMOLED panels for the Apple Watch, with shipments expected to reach about five million a month in 2015, according to sources at LG Display.
Related photos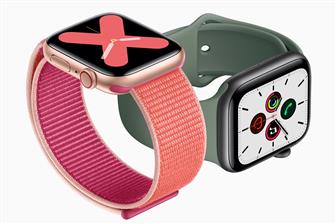 Apple Watch Series 5
Photo: Company, Monday 16 September 2019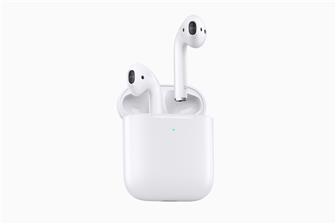 Apple second-generation AirPods
Photo: Company, Thursday 21 March 2019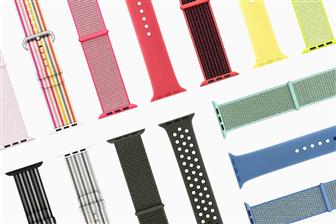 Apple Watch bands for spring 2018
Photo: Company, Thursday 22 March 2018
Related news around the web