41 news items tagged 9.7-inch
Apple is scheduled to launch its new iPad Pro series around March, but shipments are unlikely to peak until after April as their components suppliers are slowly ramping up their output...

Global shipments of tablet PCs are estimated to decline 8.9% sequentially and 8.7% on year in the second quarter of 2019, traditionally still a low season, Digitimes Research estim...

Apple is scheduled to roll out its entry-level MacBook series featuring Intel's 14nm Kaby Lake processor in September's product launch conference. The model is expected to be priced...

Global shipments of tablets hit a new quarterly low of 33 million units in the first quarter of 2017, falling 28.2% sequentially and 14.9% on year, due partly to insufficient stimulation...

Apple has updated its 9.7-inch iPad with support for Apple Pencil plus increased performance, starting at US$329. The new 9.7-inch iPad and Apple Pencil give users the ability to...

Apple is preparing to release a new entry-level MacBook at the end of the second quarter with a price tag expected to be about the same level as that of the existing MacBook Air or...

Apple is considering a new inexpensive 9.7-inch iPad priced at around US$259 for 2018, according to sources from related upstream suppliers, which added that the device should be...

Taiwan Semiconductor Manufacturing Company's (TSMC) integrated fan-out (InFO) wafer-level packaging technology is about to enter its second generation, which will bring more competitiveness...

The upstream supply chain's shipments for Apple's new 10.5-inch iPad Pro have been increasing recently and the device's monthly shipment volume is expected to grow to 600,000 units...

In the Taiwan market, tablet sales in 2016 shrank 12% on year to about 700,000 units and are expected to further drop to 600,000-700,000 units in 2017, 70% of which will be 7- to...

Sales of Samsung's Galaxy S8, particularly the Galaxy S8 Plus, in the Taiwan market have been better than expected resulting in a short supply of the smartphones in the local channels,...

Apple's new inexpensive 9.7-inch iPad is expected to increase the device manufacturer Compal Electronics' smart handheld device shipments by 50% sequentially in the second quarter,...

Apple has updated its 9.7-inch iPad, featuring a brighter Retina display with over 3.1 million pixels. The device is enclosed in an aluminum unibody enclosure weighing one pound,...

Apple reportedly is planning three new tablets for 2017, a 9.7-inch iPad with a friendly price range, a 10.5-inch iPad, and an upgraded 12.9-inch iPad Pro. The products are still...

Apple will ship an estimated four million 9.7-inch iPad Pros during the first half of 2016. The 9.7-inch iPad Air 2 will account for the largest portion of all iPads shipped in the...

Apple has introduced the all-new 9.7-inch iPad Pro - at just under one pound it features a new pro Retina display with greater brightness, wider color gamut, lower reflectivity, Night...

With Apple showing more aggressiveness in producing its new 9.7-inch iPad, its overall iPad shipments in the third quarter of 2014 are expected to return to the growth trend.

Supply chains are ramping up production for components used in Apple's soon-to-be-released 9.7-inch iPad.

Apple's 9.7-inch iPad supply chains are preparing for shipments of more than 10 million units in the fourth quarter of 2013, according to industry sources.

Apple's iPad shipments are expected to drop to only 10-12 million units in the third quarter, down from the company's announced 14.6 million units in the second quarter due to consumers...

After plunging by more than 80% in January 2013, shipments of 9.7-inch LCD panels intended for the iPad rebounded 158% in February as Apple resumed purchasing in big numbers, according...

Shipments of 9.7-inch tablet panels used in tablets such as Apple's iPad nosedived 81% in January 2013, coinciding with other market developments that showed an overall drop for large-size...

Apple's next generation 9.7-inch iPad will reportedly use the same G/F2 (DITO) thin-film type touch screen structure as the company's iPad mini in order to make the device thinner...

Production for 9.7-inch iPad products is expected to decrease by 40% in the first quarter, according to industry sources.

Taiwan-based chassis maker Casetek Holdings, a subsidiary of Pegatron Technology, is expected to have shipped one million and 1.5 million iPad mini chassis in November and December...
Related photos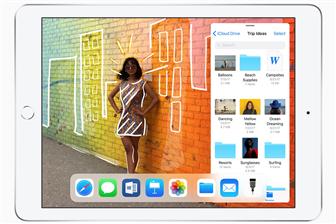 Apple 9.7-inch iPad (2018)
Photo: Company, Friday 30 March 2018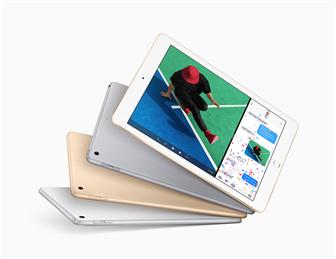 Apple inexpensive 9.7-inch iPad
Photo: Company, Wednesday 22 March 2017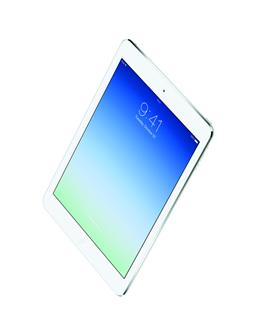 Apple iPad Air tablet
Photo: Company, Wednesday 23 October 2013