Stroke is one of leading causes of death worldwide. Ischemic stroke, caused by the blockage in arteries that supply blood to the brain, is one of the two major types of stroke accounting for 85% in all cases. Carotid artery stenosis is an early warning indicator of ischemic stroke. Carotid ultrasound is the current gold standard to assess the stroke risk. However, it requires medical professionals to operate the equipment, not to mention the precious time spent for appointments and waiting. The entire process is money-costing and time-consuming.
For reaching an effective solution, Pulxion Medical Technology, a new start-up company, was spun off from Professor Hao-Ming Hsiao's lab at National Taiwan University. The mission of the company is to develop AI-based imaging technology, with the goals of translating the research work into clinical solutions and commercial products. Thomas Hsu, CEO of Pulxion, highlights that the company uses its core technology of dynamic video processing to build a non-invasive device for stroke risk assessment. The entire process is completed by taking a short video clip aimed at the neck under LED light with only one simple click, anywhere, anytime. In less than five minutes, the user receives a report indicating low to high risk for stroke assessments. With this device, Pulxion plans to promote its use at chain pharmacies and clinics, healthcare centers, and local communities for general public who might have stroke issues without foreseeable symptoms. Early detection is the key to the preventive medicine, Hsu said.
Pulxion has collaborated with medical teams from National Taiwan University Hospital (NTUH) for more than five years, with more than 500 clinical cases enrolled so far. These clinical data were used to develop the core technology of dynamic video processing, feature extraction, and AI algorithms. The accuracy of its product stands higher than 90%, when compared to the Carotid ultrasound clinical outcome. The company is planning to apply for regulatory approval from FDA and TFDA to make PulStroke commercially available.
In the second development phase of this product, the AI technology will play an essential role for processing massive video imaging data with the trained AI network. In this development phase, Pulxion chooses to enroll in Taiwan Computing Cloud Service (TWCC) from National Center for High-performance Computing (NCHC). The goal is to use parallel computing power of TWCC services to handle massive data for faster and higher efficiency. The use of TWCC powerful computing services will also help to keep all data in Taiwan local servers. This could facilitate the TFDA regulatory approval which is heavily regulated by the cyber-security acts. Applying TWCC services not only increase the high-performance computing power, but also help to meet the TFDA requirements.
The design concept of Pulxion's PulStroke device is quick, accurate, and affordable and can be done anywhere, anytime, without the presence of experienced operators. The mission of the company is to provide personalized mobile hospital, allowing general public to assess their own stroke risk at home and take necessary actions as early as possible.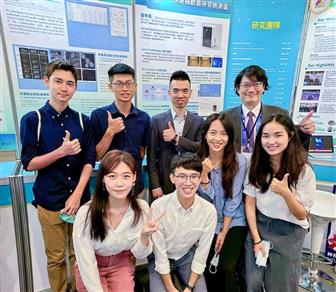 Thomas Hsu (back row, second from right), CEO of Pulxion Medical Technology, and the team members
DIGITIMES' editorial team was not involved in the creation or production of this content. Companies looking to contribute commercial news or press releases are welcome to contact us.