The petrochemical industry produces products of tremendous value through labor-intensive and complex processes. Any unexpected production equipment failure may result in production shutdown and significant losses. With Industrial 4.0 becoming a key development trend for manufacturing industries in recent years, the petrochemical industry is beginning to incorporate smart manufacturing and attach importance to data. Prowave, with three decades of experience in equipment vibration research, engaged in collaboration with ADLINK to develop a new machine condition monitoring system for a large petrochemical company in Taiwan to help ensure more reliable and safer production equipment operation.
Concerns over cost and payback period no longer hinder adoption of machine condition monitoring solutions
Prowave successfully helped a renowned petrochemical company in Taiwan incorporate a machine monitoring system operating across multiple production sites. The system not only enables the company to stay on top of the operating conditions of production line equipment but also generates additional benefits.
Smartization in manufacturing remains in the initial stage, so many manufacturers hesitate to introduce smart systems into their production process. In particular, machine condition monitoring systems are not considered revenue-generating equipment. Moreover, in view of their high upfront cost and long payback period, manufacturers generally take a wait-and-see attitude toward their adoption. However, we will see a new side of things from a different perspective. If we look closely at current market developments, we will find market-leading manufacturers have long engaged in building up machine condition monitoring systems. This vouches for the value of these systems. From the use case of the petrochemical company in Taiwan, we see that the machine monitoring system has created four major benefits of machine condition monitoring as follows.
Benefit 1: Maintaining reliable production line operation
Production equipment is the most valuable revenue-generating asset to manufacturers. A machine condition monitoring system helps ensure reliable operation of production equipment so that manufacturers can rest assured of their product quality and production yield. It can prevent unexpected equipment failure from resulting in production shutdown and shipment delay, which may damage business reputation.
Benefit 2: Significantly reducing maintenance cost
A machine condition monitoring system will immediately issue an alert when detecting a warning sign of equipment failure. Factory managers can therefore take early action and root out the cause of the problem at minimal cost. Not only will it save manufacturers from the cost of replacing failed units but it can also effectively extend equipment life and maximize manufacturers' return on investment.
Benefit 3: Ensuring labor safety
A machine condition monitoring system can use smart monitoring solutions to detect the conditions of machines operating in hazardous environments such as at high altitudes or with toxic gas. It therefore eliminates the need for human inspectors and reduces the chance of labor safety incidents.
Benefit 4: Driving smart transformation using big data analytics
Equipment condition data collected by a machine condition monitoring system can serve as the basis for analysis by backend platforms to help factory managers make production plans and drive digital transformation for the corporation.
The high-performance system precisely captures equipment condition
In light of all the above benefits, Prowave built the machine condition monitoring system for the petrochemical company in Taiwan using ADLINK's MCM-100 and MCM-204. Featuring high resolution and high bandwidth, MCM-100 and MCM-204 meet the system's requirements for machine vibration detection. Their built-in RJ-45 Ethernet ports significantly shorten cabling distance and therefore minimize signal interference. With 4-CH 24-Bit 128kS/s simultaneous sampling analog input, different machines can easily be connected to form an Internet of Machines. MCM-100, powered by Intel Atom x7-E3950, is suitable for use as workstations at manufacturing sites. MCM-204, featuring ARM Cortex-A9, can perform edge computing. Its small footprint also allows easy integration with the production equipment on site.
ADLINK's high-performance hardware enables Prowave's vibration detection technology developed through long-term devotion to work at its best. In the use case, the machine condition monitoring system Prowave built for the petrochemical company analyzes data collected from on-site production equipment in real time. The vibration thresholds at which the system will issue warning or critical events can be customized based on user requirements. Furthermore, Prowave provides complete maintenance service. It will perform annual system calibration based on on-site operation condition after the system is put into place. Prowave will also build vibration models for the production equipment to enable more precise analysis and maintenance going forward.
Professional manufacturer selects the system for its high quality and high performance
A slew of global machine condition monitoring solution providers took part in the tendering process of the petrochemical company, which is also an equipment manufacturer and production line system expert itself. The system jointly created by machine condition monitoring solution specialists ADLINK and Prowave was approved and selected by the tender project managers over the other competing systems from global leading firms. They are now working together to put the system in place at the petrochemical company's plants. Aside from the petrochemical industry, the system is also ideal for the semiconductor, display panel, pulp and paper and other large-scale manufacturing industries. With the system, factory managers will be able to leverage real-time machine condition monitoring to stay on top of production equipment health and take the first step to smart transformation.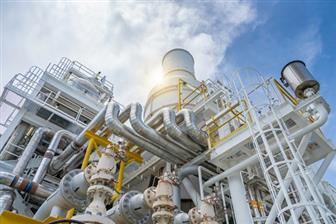 With Industrial 4.0 becoming a key development trend for manufacturing industries in recent years, the petrochemical industry is beginning to incorporate smart manufacturing and attach importance to data.
DIGITIMES' editorial team was not involved in the creation or production of this content. Companies looking to contribute commercial news or press releases are welcome to contact us.