A university research team has been developing AI-based analysis of general blood data to screen out phlebotomy cases with high risks for blood cancer.
The Taipei Medical University team uses machine learning to analyze cell population data of CBP (complete blood picture) produced from regular blood inspection via phlebotomy, explained the team leader Syed Abdul Shabbir.
The team cooperates with a medical center affiliated with South Korea's Konkuk University, which povides 457 cases of malignant blood tumor and 425 ones of benign blood tumor for training the machine, Shabbir said.
Seven machine learning algorithms have been used in the AI-based analysis: SGD (stochastic gradient descent), SVM (support vector machine), RF (random forest), DT (decision tree), linear regression, logistic regression and ANN (artificial neural network), said Shabbir, an associate professor at the Taipei university's Graduate Institute of Biomedical Informatics.
Based on tests of the 882 cases, ANN shows the highest accuracy level of 93.5%, he said.
As blood cancers are comparatively uneasily diagnosed, most of detected blood cancers are in stage 3 or 4 and thus it is too late for the best medical treatment. The AI-based analysis can detect high risks for blood cancers based on conventional phlebotomy.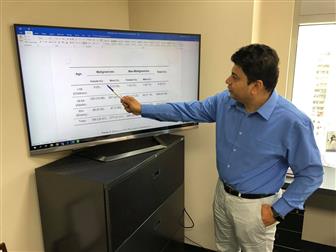 Taipei Medical University associate professor Syed Abdul Shabbir
Photo: Mark Tsai, Digitimes, March 2020