Time Banking Cloud Services has introduced a blockchain-based cloud computing-based time banking platform to enourage enterprises' and non-profit organizations' volunteers to offer help for elderly people, according to company general manager CJ Lin.
Volunteers from enterprises and non-profit organizations can obtain time coins through the cloud computing-based banking mechanism for giving care services, and they can use the coins to ask for care services in the future, equivalent to future return on time investment at present, Lin explained. The platform keeps accurate and fair blockchain records of every volunteer providing services, Lin said.
Currently, enterprises include insurance companies and non-profit organizations include governments' social welfare organizations, Lin said.
Time Banking provides training in elderly people's care and related consulting for volunteers, Lin noted. For every enterprise or non-profit organization, the company monthly charges NT$2 (US$0.066) per time coin it issues, but exempts the charge if fewer than 5,000 time coins are issued in a month, Lin indicated.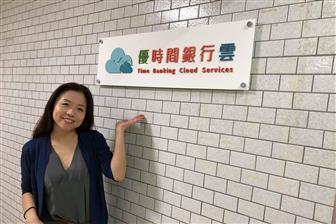 Time Banking Cloud Services general manager CJ Lin
Photo: Mark Tsai, Digitimes, January 2020