Traditional manufacturers and startups can inspire one another to create new value, according to panelists at an event focused on innovations.
Traditional manufacturers used to rely considerably on know-how based on senior technicians' experience, and Thingnario has successfully digitized such experience using image interpretation and AI technologies, according to Jubi Chen, company co-founder and product director of Thingnario at the recently concluded Startup X: Vertical Applications panel discussion jointly organized by Taipei City Governmnet and Digitimes.
Thingnario has developed AI-based smart solution for predicting optimal time of maintaining PV power-generating facilities, hiking revenues from power generation by 7-14%, Chen said. It has also developed an AI-based solution for monitoring operation of injection machines, decreasing time length of machine suspension by 5-10%, Chen noted.
The strong OT (operational technology) infrastructure in Taiwan is the best cradle for IT-based startups, which, with inspiration from traditional manufacturers' domain know-how, can help those manufacturers upgrade their operations and at the same time enable their own development of vertical applications for traditional manufacturers, Chen indicated.
Medical Augmented Intelligence (MAI), a startup engaged in developing precision medicine solutions, has introduced BodyMap through restructuring human bodies to provide comprehensive and medically accurate anatomical systems, said company founder and CEO Sam Jang at the event.
Matched with VR technology, BodyMap is a digital avatar of the human body that enables doctors to offer concise medical education for patients to help them understand their diseases and make informed decisions on optimal treatment, Jang noted. BodyMap can also help doctors determine more accurate paths and intensity of X ray.
As acupuncture in ancient Chinese medicine shows therapeutic effects clinically but is difficult to be explained theoretically, BodyMap stands a chance of playing a bridge between western (modern) medicine and ancient Chinese medicine, Jang indicated.
Development of startup businesses in Taiwan has lower opportunity cost than in Silicon Valley, Jang added.
Anchor Taiwan is engaged in introducing international high-tech enterprises, startup businesses, venture capital firms and incubators to Taiwan as well as making overseas resources accessible to Taiwan-based startups, said company founder and CEO Elisa Chiu at the event.
There are many internationally competitive high-tech industries and high-tech companies with large development potential in Taiwan, Chiu added.
Startup businesses can provide vertical applications for traditional manufacturing industries to help manufacturers improve products/services or production processes, and more importantly, improve their supply chains, Chiu indicated.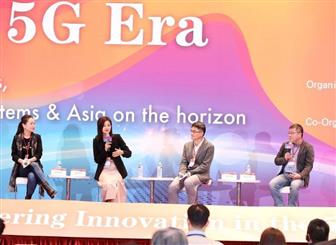 MAI founder & CEO Sam Jang (second right), Thingnario co-founder Jubi Chen (second left) and Anchor Taiwan founder & CEO Elisa Chiu (left)
Photo: Molf Lai, Digitimes, November 2019