Medical Augmented Intelligence (MAI) has applied VR technology to developing solutions based on restructuring medical images for use in simulating surgical operation and medical education in anatomy, according to company founder and CEO Sam Jang.
The Taiwan-based startup has developed Digital Twin by restructuring medical images including X-ray, CT (computed tomography) and MRI (magnetic resonance imaging) for VR application to precision medicine, Jang said. By virtue of immersive VR experience, Digital Twin enables surgeons gain insight into 3D details of the parts of the bodies to be operated on from different viewing angles, Jang noted. Besides, surgeons can let patients know conditions of diseases and explain optimal surgical operation to them.
MAI has also developed BodyMap, a standardized comprehensive and medically accurate anatomical system through restructuring human bodies for use in teaching anatomy, Jang said. VR-based education using BodyMap can enable students to understand the structures of human organs in relation to vascular and nervous systems as well as to simulate optimal paths of surgery in terms of depth and angle, Jang indicated.
MAI looks to use VR technology to integrate human organs and tissues in western medicine with theories about nerve-based acupuncture, Jang noted. The integration matched with AI and big data analysis may find correlation, interaction and influence between organs/tissues and symptoms of diseases to explore therapeutic possibilities, playing a bridge between western and Chinese medicine, Jang explained.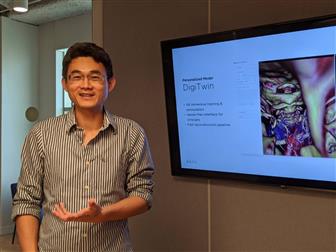 MAI founder & CEO Sam Jang
Photo: Company