UMC, once a major rival to TSMC in pursuing advanced manufacturing nodes, decided about two years ago to shift its focus away from joining the race to 10nm and more advanced process technologies. Now the pure-play foundry expects its renewed focus to start bearing fruit in 2020. Following two years of corporate adjustments, UMC has set new goals to be accomplished over the next five years, according to UMC co-president Jason Wang.
Wang and another UMC co-president SC Chien have been the architects of the company's transformation. But their roles are clearly defined: Chien is responsible for UMC's core manufacturing operations and technology including R&D, while Wang focuses on corporate strategy and planning, sales and marketing, and customer engineering. Digitimes had an opportunity recently to sit down with the two UMC co-presidents to talk about the foundry's investment strategy, and where it is heading over the next five years, including plans for China.
Q: UMC disclosed previously plans to enhance its 14nm and 12nm process offerings but to suspend sub-12nm process R&D. Are you still confident with the decision you made two years ago?
Wang: UMC has shifted its focus away from keeping up in the process-technology race and re-positioned itself to a specialty logic foundry. UMC remains confident about its strategy shift.
Two years ago, UMC decided to be less aggressive in the process-technology race and to magnify its value in specific foundry segments. We have well-established technology and customer portfolios and manufacturing capacity, and intend to utilize what we have to bring more benefits to the company's shareholders and also for sustainable business development.
Q: I believe that was a bold decision you made. Would you elaborate under what circumstances UMC decided to shift its focus?
Wang: I have been with UMC for 10 years. UMC has been keen on investing in R&D. For the foundry sector, there are two types of investments - one for technology development and the other for manufacturing capacity. The latter requires much more investment.
My finance background has encouraged me to help UMC pursue investment efficiency. For UMC, which generates about US$5 billion in annual revenues, investment in technology R&D is affordable. However, investment in manufacturing capacity calls for more conservative planning.
Therefore, it was quite a logical decision for us to make. Besides, UMC has been cautious about capital spending since 2017. Our annual capex has been maintained at US$700 million.
As for R&D expenses, UMC spends about 9% of revenue on R&D compared with 6-8% TSMC allocates. But the actual sums differ much because of the sizes of the revenues.
Chien: UMC encountered some bottlenecks in the 0.13-micron process race. It was a vicious circle in which we lost market share in the advanced node market segment and saw impacts on our revenues, coupled with a decline in our available R&D capital. Such experience pushed UMC to rethink its strategy to avoid being trapped again in a rat race.
In 2017, UMC recognized its role could make a difference. Rather than fighting to be a technology leader in the advanced-node process segment, UMC can be more capable of being a leader in the more mature process segments.
Besides, in the 14nm and older process segment, there's still room for growth. In particular, demand for specialty process manufacturing has been rising. We have a great R&D team engaged in the development of more new specialty node offerings for this growing market.
UMC used to have only 30% of revenues generated from specialty process technology. The proportion has now surpassed 50%, demonstrating our strategy shift in the last two years.
The specialty process market segment will continue to expand, driven by growing demand for chips such as display driver ICs and microcontrollers. UMC has also seen robust demand for 12-inch fab capacity using 65nm and 90nm process technology.
Q: If this decision - your increased focus on specialty node offerings - had been made earlier like five years ago, would UMC have transformed better?
Chien: This wasn't a decision we could have made lightly. We make decisions based on what we are able to see ahead.
Wang: For UMC, stepping into 12-inch wafer manufacturing was a must despite difficulties it faced. UMC's 0.13-micron technology bottleneck already delayed its entry into the 12-inch foundry space for three years. Nevertheless, UMC at that time was capable of pouring resources into 12-inch wafer manufacturing. We were once ahead of our rivals in the 90nm process segment.
At that time, it was rather impossible for a pure-play foundry to quit the process-technology race. However, the arrival of the smartphone era has reshaped the industry with growing dominance by a few suppliers. We need a different strategy for our next stage of growth.
There were a number of factors we had considered behind the decision we made in 2017. As UMC steps into the FinFET segment, we intend to put our capex focus on technology R&D rather than manufacturing capacity. In fact, UMC's investment in 28nm manufacturing capacity has still been a burden for the company. As we enter the era of FinFET, we want to slow down the pace of expansion and pursue our growth in mature and specialty market segments for profitability.
Q: Did you take other success cases as reference in formulating the transformation policy?
Chien: Texas Instruments (TI) is a very good reference case for us. In earlier times, the US firm used to develop DRAM, DSP (digital signal processor) and smartphone chips, but it later terminated development for them when the time was right. Now TI has become a firm leader in analog technology after continuously accumulating experiences and fully implementing its expertise. Infineon serves as another case with the same development pattern: it is now also leading in some strategic domains. UMC operated as an IDM in the 1980s, but later decided to become a pure-play foundry house, unloading all internal product lines. This was a major decision.
Q: Under what conditions would UMC make massive investments again?
Wang: We will remain serious about investment effectiveness. Judging from its existing operating scale, UMC have resources and opportunities, as its cash flow has increased by over 3-fold since 2017. Making massive investments is not a problem for UMC, but we care more about investment benefits.
We have just fully acquired Japan's Mie Fujitsu Semiconductor (MIFS), renamed United Semiconductor Japan (USJC) on October 1, 2019, for US$600 million, bringing us a monthly foundry capacity of over 30,000 12-inch wafers. It's good investment, given that the capacity, if built on our own, would involve a construction cost more than five times the acquisition cost.
USJC mainly engages in 90, 65, and 45nm manufacturing nodes and the acquisition will boost UMC's global market share to 22% in specialty processes, contributing to our goal of raising market shares. The deal may not create major investment benefits in the short term, but the effectiveness will gradually emerge over the long term, also in line with our focus on developing specialty process nodes and generating added-value for our capacity.
Chien: We did evaluate the possible synergy of the acquisition in advance. With its larger operating scale, UMC can easily leverage its smart production experiences to help USJC improve production flow, shorten output cycle and automate quality inspection, with investment effectiveness to emerge in three quarters. Meanwhile, USJC's solid clientele in Japan can help UMC expand its Japanese market as customers there will hope to better utilize USJC's fabs, now probably boasting the most advanced process nodes available in the country, to fabricate chip solutions for automotive and military applications.
Q: Would you talk about UMC's global deployment plans, as well as the cancellation of public listing plan for Hejian Technology Suzhou (HJTC) and UMC's suspension of cooperation with Fujian Jinhua Integrated Circuit (FJIC)?
Chien: China is no longer the factory of the world and supply chain relocation is emerging as a growing trend, with the US and many other countries hoping to have advanced fabs set up locally. For example, many clients have asked to have their products made in Singapore to diversify production risks, and yet Chinese clients also hope to have their products fabricated by UMC's subsidiaries in China - HJTC and United Semiconductor (Xiamen). Accordingly, global deployments must cater to the needs of clients while also meeting different countries' specific needs for industry support.
Our future deployments will continue to be based on evaluations of investment effectiveness, and we will also evaluate the benefits of M&A. For the moment, UMC has invested over NT$300 billion in southern Taiwan, with all its R&D teams rooted in Taiwan. Overseas investments have all met government regulations and gained government approvals.
Wang: As HJTC has registered profitable operations in China for years, and capacity expansion will also be needed at United Semi (Xiamen), we initially hoped to raise funds through the China capital market to support capacity expansions at both firms. But finally we decided to withdraw the application for listing HJTC shares on the Technology Innovation Board of Shanghai Stock Exchange after securities brokerages and securities regulatory authorities there failed to reach agreements over the listing terms. For UMC, it would be better to get capital support in China but the company can also invest with its own funds. Whether or not HJTC can list its shares will not affect UMC's long-term operation plans in China.
HJTC's 8-inch fab has a monthly capacity of 77,000 wafers, and United Semi's monthly capacity will increase to 25,000 pieces in the first-stage expansion from the present 17,000.
As for FJIC, UMC holds no stake in it; the Chinese memory maker was only a client for whom we helped develop technology on a project basis. But the development has been suspended following a lawsuit filed by Micron Technology against FJIC and UMC. Now that the case has entered the judicial process, we will do our best to safeguard our rights and clarify unjustifiable allegations against us.
Chien: The Micron lawsuit involves many false accusations and we can only vindicate ourselves in court. The lawsuit has had no significant impact on UMC, as our clients, though a little astonished initially, have maintained normal business exchanges with us, trusting that we offer perfect protection of their trade secrets.
Q: Both of you have served as co-presidents at UMC for more than two years. How do you coordinate with each other in management concepts and practices?
Chien: The co-president system enables a very good division of responsibilities, allowing us to support and supplement each other. I am in charge of technology R&D and operations, and Wang responsible for market planning and business promotion. We consult with each other about how to get our company on the right track for further development and growth. There have been no quarrels between us as we always base our discussions on facts for better communication.
Wang: The dual-head system has been meant for complementarity instead of competition. Our decision-making is 100% transparent, based on figures, rather than subjective ideas. I think this is a very pleasant cooperation model.
We both have a "stay hungry, stay foolish" mentality. Respecting each other's professionalism, we usually collect data and analyze them rationally before reaching consensuses and making final decisions. Actually, the entire process is virtually the same as big data analysis done with digital tools.
Q: UMC's co-president system will enter its third year of operation in 2020. Would you both assess your own achievements and performances so far ?
Chien: Our capacity utilization rates have hit over 90% for two consecutive years, but heavy equipment deprecation burden resulting from past mega investments is expected to persist for one more year before starting to ease. Nevertheless, we have performed well in boosting technology competitiveness. We have completed development of 14nm process and remain competitive in 22-28nm nodes. We also see clear growth trends for our product lines in 2020-2021.
Additionally, we have outrivaled peers in specialty segments, capturing the highest market shares in LCD driver IC and TDDI IC fabrication in the past two years. We have also started volume production of OLED driver ICs using 40 and 28nm nodes in 2019 and hope to gain a presence in the AMOLED market in South Korea or China in 2020. Our market share in the RF-SOI (radio frequency-silicon on insulator) segment has also reached 15%, and our shipments of automotive MCUs, already validated by clients, are set to grow steadily. But it is a bit pity that these achievements cannot be immediately shown in terms of financial numbers.
Wang: I think UMC's financial performance is acceptable, but we are not winning the applause we deserve. I'm trying to win that applause for us, at least securing a reasonable place in the industry. In terms of financial performances, commitments from employees, and recognition by clients and shareholders, we've achieved our goals set two years ago. The management team has reached a consensus over future development direction and will continue to present impressive results in diverse domains.
UMC's transformation efforts will start to bear fruit in the next two years. For UMC with 20,000 employees and over 400 clients, it is not an easy job to enforce major operational changes. But UMC has proved that it has the resources and capability to handle the job well, which, however, still needs a little more time to finish.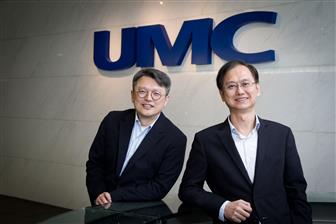 UMC co-presidents Jason Wang (left) and SC Chien
Photo: Shihmin Fu, Digitimes, November 2019