Taiwan-based InSynerger Technology has introduced cloud computing-based power management services by virtue of IoT, big data analysis and AI for non-residential users, according to company president Polon Chuang.
InSynerger, spun off from government-sponsored Information Industry Institute (III) in 2017, uses IoT sensors to collect power consumption data from machines and equipment, and provides cloud computing-based platforms for users to improve power use efficiency and save energy, Chuang said. In addition to monitoring power use, power consumption data can be used in analysis to detect abnormal operating conditions for machines and equipment and optimize manufacturing processes, Chuang noted.
Based on analysis of historical data on power consumption and relevant data such as output and working days, InSynerger predicts monthly power demand as reference for users to decide on optimal monthly contract capacity for electricity supply with state-run Taiwan Power Company (Taipower), Chuang indicated.
If actual power consumption is below contract capacity, power billing is based on the contract capacity, but actual power consumption in excess contract capacity is subject to extra charge at a higher rate, Chuang explained. Therefore, it is the most appropriate that actual power consumption is equal to contract capacity, Chuang noted. In line with the prediction, InSynerger helps users control power use not to exceed contract capacity, Chuang said.
InSynerger is cooperating with Taipower to develop a cloud computing-based ADR (automated demand response) platform to enable Taipower to reach smart real-time adjustment in distribution and supply of power based on actual demand.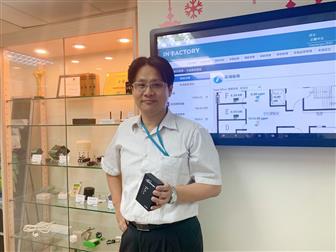 InSynerger Technology president Polon Chuang
Photo: Chloe Liao, Digitimes, November 2019