Own-brand electric scooter maker Gogoro has launched GoShare services for sharing e-scooters on a rental basis in Taipei, according to GoShare director Henry Chiang.
Gogoro started GoShare operation in Taoyuan, northern Taiwan, on August 29, 2019 and, as of October 20, cumulatively registered over 100,000 users with cumulative running distance of 550,000km, equivalent to carbon reductions by 450,000kg, Chiang noted.
Gogoro uses 125cc Gogoro 2 e-scooters for GoShare services in Taoyuan but uses Gogoro Viva, a model featuring much less weight, in Taipei, Chiang indicated. This is because public transportation takes up about 15% of all intra-city trips in Taoyuan but the percentage in Taipei is 42.8% and therefore, rental e-scooters provided in the former are for long-distance ride while those in the latter are for short-distance last-mile connection between homes or working places and subway stations or bus stops, Chiang explained.
Gogoro will deploy 1,000 Gogoro Viva e-scooters in selected areas in Taipei in three days and increase the number to 3,000 by the end of 2019, Chiang said.
Along with continued accumulation of GoShare operating data, Gogoro collects and analyze data concerning riding time, origins and destinations of trips and running distances, and will use the analysis to derive GoShare operating models in different areas as reference for optimizing services and developing next-generation rental e-scooters, Chiang noted.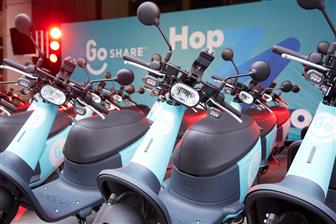 Gogoro Viva for GoShare services in Taipei
Photo: Michael Lee, Digitimes, October 2019