Qisda-BenQ Group has been actively developing medical care business in Taiwan and China and will extend its efforts to Southeast Asia, according to Harry Yang, vice president for Qisda's Medical Devices Products Group.
Qisda was established in 1984 and spun off its brand BenQ into a subsidiary to become an ODM/OEM in 2007.
The development of medical care business consists of four areas, Yang told Digitimes in a recent interview: Medical care services, medical cosmetic products, smart medical solutions, and medical equipment and materials.
The group set up a hospital in Nanjing, China, in 2007 and another in Suzhou, also in China in 2013. It has also set a subsidiary engaged in marketing hearing aids.
BenQ Materials, a polarizer subsidiary, produces Miacare contact lenses, DermaAngel skin care gel and AnsCare wound care and hemostatic products.
BenQ has developed MiBot, a smart robot to convey medical devices and materials, and FitHRight, a monitoring system based on smart wearable devices and cloud computing management for use in group fitness activities.
BenQ produces medical displays; BenQ Dialysis Technology has begun production of hemodialyzers; BenQ Medical Technology develops iQOR, a smart solution for use in operating rooms; AB DentCare (joint venture with Israel-based AB Dental Devices) produces dental implants; Lily Medical produces diagnostic ultrasound scanners.
Qisda has set up a production line with annual capacity of 2.2 million hemodialyzers. Viewing that there are about 80,000 hemodialysis patients in Taiwan, the group acquired K2 International Medical in 2018 for marketing of hemodialyzers.
In particular, iQOR integrates surgical tables, lamps and other surgical equipment and allows members of a surgical team to know real-time information on patients including images transferred via PACS (picture archiving and communication system). More than 100 sets of iQOR have been adopted by hospitals in China.
The group aims at revenues of NT$30 billion (US$971 million) for medical care business in 2020, four times the level in 2018, through keeping acquiring startup businesses, Yang noted. In 2019, the group plans to acquire 3-5 startups, Yang said.
Targets of acquisition are startups that have brought prototypes into volume production and such acquisitions will allow Qisda to quickly increase output. This is because certification for medical devices takes 2-3 years and the group prefers to invest more in start-up businesses with feasible products and business models rather than wait for obtaining certification, Yang explained. Start-up businesses, before certification process or volume production, had better have their products in trail use through cooperation with hospitals or makers to test market response, Yang indicated.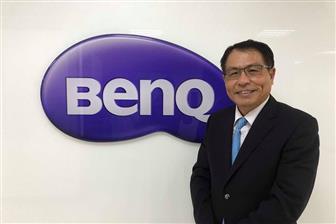 Harry Yang, vice president for Qisda's Medical Devices Products Group
Photo: Mark Tsai, Digitimes, November 2018