Micro-Star International (MSI) has been keen to show off the motherboards it will be releasing in the coming months at the ongoing CeBIT 2007 IT trade show in Hannover, Germany.
The P6N Diamond combines some of the big names in enthusiast hardware; the nForce 680i – the current flagship chipset from Nvidia, and Creative's X-Fi Extreme Audio. This integrated version of the X-Fi series may lack some of the features that the add-in cards deliver, but for many the opportunity to have X-Fi onboard means lower costs and better performance than other integrated audio solutions. MSI mentioned that it has been working closely with Creative for over two years and the co-operation is working well for both parties.
MSI indicated that although the P6N Diamond marks the first appearance of X-Fi on its motherboards, the company has plans to feature X-Fi on future boards too, including ones based on Intel's recently unveiled Bearlake chipset family. Regarding the numerous reports that Creative is struggling to deliver X-Fi drivers for Windows Vista, MSI revealed that Creative has recently submitted both 32- and 64-bit drivers for WHQL testing, and it expects certified drivers to be available around the time the P6N Diamond launches.
In addition to its above-average onboard audio, the P6N Diamond has a few other features that make it stand out from the crowd of 680i-based boards. As with boards from other manufactures, the P6N features three x16 PCIe Express (PCIe) slots, and then adds a fourth for good measure. The four slots are paired up electrically as two x16 and two x8 and allow the P6N to support SLI plus a couple of PCIe add-in cards now, but MSI also mentioned SLI Physics and Quad-SLI will also be possible in the near future. Additionally, MSI highlighted that the RAID controller on the P6N supports hardware RAID 0 and 1 as well as RAID 5 in software.
The P6N Diamond is scheduled to launch in the second quarter and will be priced around US$280.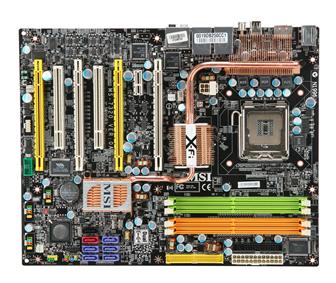 The P6N diamond freatures integrated X-Fi audio and four x16 PCI Express slots
Photo: Company
The second interesting motherboard that MSI has on show at CeBIT is the P956 Neo2. This Intel 965 Express based board has been customized to support ATI Crossfire which is implemented via a PCIe x16 slot and an open ended x4 slot. This means that performance is likely to be slightly lower than boards using high-end chipsets such as the Intel 975X, but the P965 Neo2's low price tag of around US$100 is likely to appeal to many consumers.
Additionally, MSI is also is set to release the P6N SLI, an nForce 650i motherboard that will launch in the second quarter priced around US$170.
Also spotted were boards based on the AMD 690 chipset and boards based on an Nvidia IGP – likely to be the upcoming MCP 73 for Intel and MCP 68 for AMD. MSI commented that it is impressed with the video quality that the AMD 690 offers, and hinted that it has plans to support high-end AMD chipsets later in the year.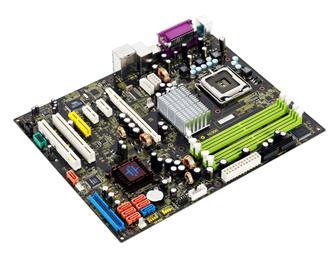 MSI's P965 Neo2 delivers Crossfire performance at a mainstream price
Photo: Company
For complete DigiTimes coverage of CeBIT 2007 go here.