The Department of Economic Development, Taipei City Government is actively fostering its International Startup Soft Landing Program. To this end, the department founded the Taipei Entrepreneurs Hub and held a Demo Day event in t.Hub Taipei on November 2, 2021. The event was not only a chance for startups to exhibit their products, but also to further promote collaboration between global startups and domestic enterprises by helping prospective teams adjust their products and services to adapt to the Taipei market. Notable venture capitalists and business representatives were invited to attend, including Amanda Liu, executive director of Yong-Lin Educational Foundation and founder of Everiii Consulting , and Nicholas Yang, head of Blockchain in DDT of Cathay Financial Holdings, and Charlie Wu, general manager, Cooler Master.
The event started with a speech from Taipei City Deputy Mayor Shan Shan Huang. She said, "Taipei City is a free, open, and diverse city. It is a vibrant yet prosperous metropolis that has all the features needed to create an environment where startups can thrive. Since the founding of the Startup@Taipei Office in 2015, it has offered a one-stop service for entrepreneurs in terms of incentives, grants, and financing needed to start a business. The city has also established various startup bases with different resources and focuses to attract global talents and entrepreneurs to Taipei. Despite all the hardships and challenges in 2020 caused by the COVID-19 pandemic, it has also been a year full of new opportunities. I would like to take this opportunity to thank the business representatives here today for bearing through these difficult times with the Taipei City Government and for their continued willingness to build innovative and transformative collaboration relationships to support startups in this region."
Global startup talent bootcamp: Preparing foreign startups for the Taipei market
During the event, a video was shown to the audience detailing the Taipei Soft Landing Bootcamp that took place online and offline for seven consecutive days from October 18 to 24. The Bootcamp not only helped participating teams to effectively redefine their objectives, but also enabled them to quickly grasp the vital entrepreneurial contact network. The extensive curriculum included in-depth training seminars, fireside meetings, one-on-one mentoring, presentation skills training, and other practical courses. The International Startup Soft Landing Program is a demonstration of the diverse values of entrepreneurship in Taipei City and an invitation to prospective teams all over the world to join in the scene.
The Taipei Entrepreneurs Hub Demo Day event was attended by 14 different startup teams from 11 countries including those from the US, Europe, Taiwan, Slovakia, Guatemala, Peru, and Southeast Asia. The range of products shown covered the fields of artificial intelligence, blockchain technology, e-commerce, sustainable development, and general lifestyle. DECENT and The Khronus Protocol debuted blockchain technology applications used in commercial contracts and blockchain technology. Of note, DECENT has not only entered into a partnership with the European Space Agency, but is also offering their Enterprise Resource Planning system through a software as a service approach to Taiwanese businesses looking to capitalize on supply chains moving out of China, thus winning considerable attention.
In terms of marketing tools, extensive use of AI was the clear theme as exemplified by CreatorDB and Webu, both of which used data analysis and categorization to help brands or marketing departments make better use of online sales events. Another major focus targeted applications for the Taiwan and Southeast Asia e-commerce markets prompted by the New Southbound Policy. This was exemplified by GDT ASIA, which provides project translations, precision marketing platforms, and cash flow and logistic integration systems with local customer service platforms. Malaysian startup NeuXP also showcased its digital banking integration system. Lastly, Agile Academy Asia offered its eponymous Agile communication training courses in response to the rise of alternative modes of corporate collaboration under the pandemic.
In the health, sustainability, and lifestyle fields, a significant variety of startup teams made their pitch. For example, Chose-eat developed an app that designs customized personal menus for people with dietary restrictions, while NatureHub came out with a personalized web tool that links farms and food providers with customers looking for natural and local food sources. Team8 decided to focus on 8-12 year old children with weight problems, encouraging them to start losing weight by integrating their services with online games and online fitness tracking. AQUIVIO also built a new application to create an ecosystem for nutritional drinks and general hydration.
As for industrial applications, Movel AI presented its robotic navigation solution and management platform that combines sensors with computer visual detection technology. Vocaltale presented a podcast-optimized audio optimization platform, and Additive Intelligence proposed a way to help decrease 3D printing manufacturing costs in the future by using machine learning to reduce material warpage during sintering.
Creating a more convenient and refined service/experience
All of the unveiled products shared one characteristic - they aimed to create a more convenient and refined service or experience for the user. The teams only had five minutes to explain concisely the idea behind their product and the vision it represented. Their enthusiasm is proof that the pandemic did not cut global innovation short. Aspiring startups from all over the world are still trying to offer more environmentally friendly, sustainable, and highly automated solutions against the backdrop of the rapidly changing modern lifestyle.
Each startup team used the opportunity to leave an impression on investors by helping them understand the milestones they wanted to achieve at each stage of the company. For example, US startup Additive Intelligence attracted considerable attention by explaining to potential investors and partnering companies that the funds raised would be used to patent key technologies, and that it was looking forward to bringing in new members for more data validation. Startup team NatureHub also explained how their capital would be used to penetrate the market, increase sales deployment, and ultimately tailor their product development process for the Taiwanese market.
The Demo Day event has illustrated the vibrant innovation of startup teams from around the globe and the high expectations that these teams have for the Taipei Market. With backing from the professional community in the Taipei Entrepreneurs Hub and the full-fledged support of the Taipei City Government, it is expected that the investment of key resources into the startup ecosystem will lead to better outcomes for participating teams and attract even more outstanding teams, starting a new age of innovation in Taipei City. The Taipei City Government and the Taipei Entrepreneurs Hub will also continue to work together to promote the stories and the spirit of innovative entrepreneurship through various channels, promising to further integrate resources to help companies expand to domestic and foreign markets, thereby facilitating even more opportunities for international collaboration.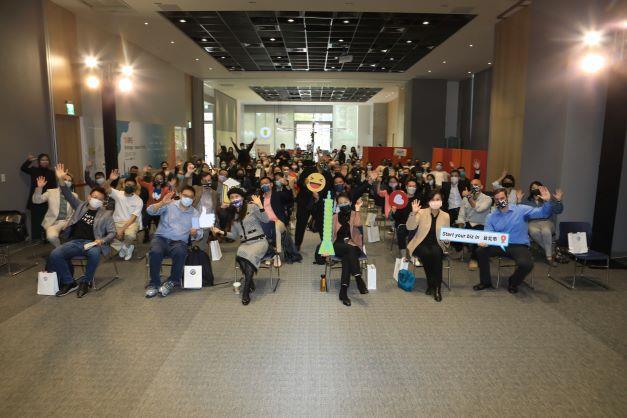 Startup teams at Taipei Entrepreneurs Hub Demo Day
Photo: Department of Economic Development, Taipei City Government
Startup teams at Taipei Entrepreneurs Hub Demo Day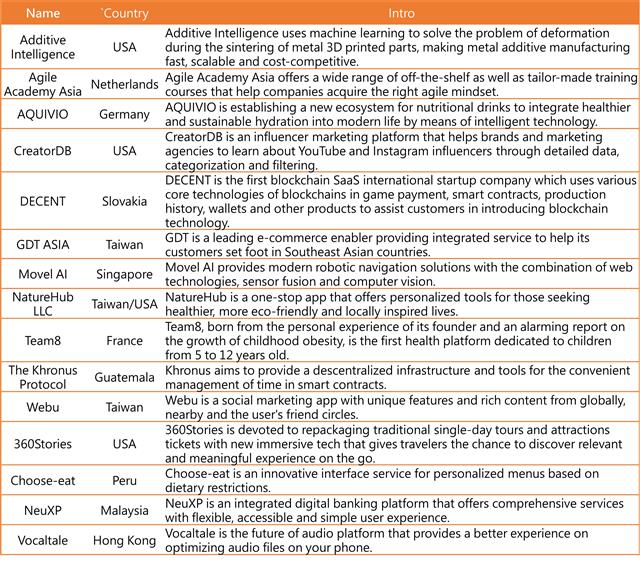 Surce: Department of Economic Development, Taipei City Government