The report you are trying to access requires subscription (
account info
). Please
sign in
if you wish to continue.
Although global notebook demand will decelerate in 2022 and 2023, their shipments will regain momentum starting 2024, while the global smartphone market is expected to enjoy shipment growth every year from 2022-2026. Global tablet shipments will see a moderate growth in 2021, but will shrink in each of the next five years starting 2022.
Abstract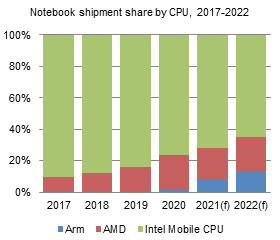 Global notebook shipments are expected to experience minor declines in 2022 and 2023 as governments will start cutting their COVID-19 subsidies and stimulus checks with the easing of the pandemic, reducing overall demand for notebooks. However, the market is expected to see the next wave of shipment growth between 2024 and 2026 with upgrades to panels and hardware.
Meanwhile, Digitimes Research expects global smartphone shipments to increase 4.7% on year and arrive at 1.3 billion units in 2021 and will see on-year growths between 4-7% every year in the next five years from 2022-2026.
Tablet brands will see a more stable market environment in 2022 with their shipments in the year to pick up moderately by 1.3% from 2021. Although tablet brands will start pushing into the creator market to seek more business opportunities, overall tablet shipments are still likely to shrink over the next five years until 2026.
Table of contents
Price: NT$36,400 (approx. US$1,300)