The manufacturing industry is rapidly moving towards smartification. The two major areas of IT and OT (operations technology) have begun to be integrated into IIoT architecture, and the efficiency of the production line has been greatly improved through the uninterrupted flow of on-site information. However, as networks become integrated, problems have emerged in information security, problems far more complex than those addressed by the manufacturing industry of the past. The DataHub middleware solutions provided by Skkynet for embedded systems, cloud applications, and local platforms, meet these challenges. Using DataHub software, manufacturers can implement secure network connection mechanisms to create a smart factory that excels in both performance and safety.
Previous OT systems in the manufacturing industry tended to be mostly closed architectures in which all the machines and equipment were interconnected only on-site, meaning there was no need to communicate or connect with external networks. However, Industry 4.0 is all about making proper use of internal data in the corporation to reduce production costs and strengthen industrial efficiency. In response to this trend, OT systems must be integrated with IT systems to provide added value. Taking the recent COVID-19 pandemic as an example: companies have constructed external networks over which systems can remotely monitor automated equipment on the production floor, allowing the production line to maintain normal operations even during the pandemic.
While opening up, OT systems are also facing security threats that are common to IT systems. Since OT equipment is a manufacturer's most important asset, an attack on OT would cause major losses to the corporation. Aiming to solve this problem, manufacturers have now begun to strengthen the information security of their IIoT systems. However, most companies currently have only set up VPNs, or use MQTT outbound connections to prevent intrusion of malicious programs. In the face of ever-evolving hacking techniques, using a single firewall as the sole protection mechanism cannot easily meet the needs of the manufacturing industry. Skkynet's DataHub uses the DHTP protocol that allows bidirectional data communications between different networks through proxy servers and DMZs, ensuring that network architectures in the manufacturing industry can operate stably over the entire environment.
Skkynet's software and services have been applied in various industrial fields, such as energy, petrochemicals, minerals, manufacturing, medical and pharmaceuticals, and transportation. Major overseas firms, including Siemens, GE, ABB, Fuji Electric, Boeing, and other benchmark operators, use Skkynet's software. And in Taiwan, Chang Chun Group, China Motor Corporation, Taiwan Power Company, Formosa Plastics Group, and other large manufacturers in various fields have also imported Skkynet's DataHub to build their externally connected IIoT systems. As a result, they have given new life to the value of data, improved operational efficiency, and reduced operating costs on the production floor.
According to Skkynet, DataHub software is a secure-by-design middleware platform designed for industrial systems. Considering that Taiwan is a global base of equipment manufacturing, the company provides an Embedded Toolkit (ETK) designed for industrial equipment manufacturers. The ETK platform can help industry operators to optimize product communication capabilities and significantly shorten time-to-market. Skkynet hopes to use its comprehensive products and services to strengthen the cooperative relationship with Taiwanese system integrators and industrial software companies, and together seize on opportunities in smart manufacturing.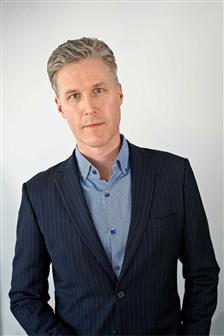 Paul Thomas, President of Skkynet
Photo: Company