Coretronic Intelligent Robotics Corporation (CIRC), a subsidiary of Coretronic group, delivers a full lineup of commercial drones servicing different applications, including "Hummer" for mobile patrols, "Kestrel" for security and inspection, "Falcon" for surveying and mapping, and "Pelican" for logistics. Integrated with in-house developed fleet management platform (SkyWatch) and AI data analysis platform (Insight), CIRC has provided the total solution with intelligent information to users to realize the automation and digitalization.
According to Grand View Research, commercial UAV (Unmanned Aerial Vehicle) market is expected to grow significantly in the next three to five years per accelerating the applications of Internet of Things (IoT) and Artificial Intelligence (AI), and the gradual relaxation of regulations. It is expected to reach US$129.23 billion by 2025 with the CAGR (compound annual growth rate) of 56.5%. "In recent years, countries such as Europe, the US, and Japan, have been developing their own UAV technology and industry. CIRC has designed and produced the airframe of the commercial drones, and developed the flight control system, by the teams located in Taiwan, together with the service of customized software solutions by applications. We expect to grow ourselves along with the opportunity of the commercial UAV market," said Andy Hsin, General Manager of CIRC.
Furthermore, CIRC also offers Autonomous Mobile Robot (AMR) carriers and forklift trucks to serve the need of smart manufacturing and smart logistics, by successfully developing its cutting-edge AMR solution with 2D/3D LiDAR SLAM, achieving the simultaneous localization and 2D/3D mapping without any need of field re-layout by guided marks. CIRC AMR solution features precise positioning, safely obstacle avoidance, smart routing, and automatically switching the map, with the proprietary algorithm and capability of motion control to execute the missions accurately. With the feature of 3D visual recognition, CIRC AMR forklift dynamically recognizes the status of pallet and storage location to execute the task smoothly, and stacks the pallet with or without the racks. And the fleet is managed efficiently by the centralized console and/or local stations via handheld device to schedule the tasks and control the AMR vehicles with real-time monitoring. In addition, the fleet management system can be interfaced with the manufacturing and/or logistics management system (ERP/WMS/MES) to realize the smart manufacturing and smart logistics.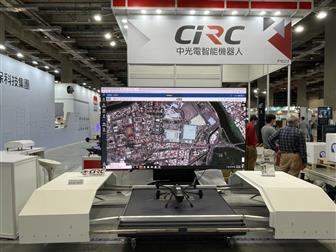 Coretronic Intelligent Robotics Corporation (CIRC) delivers a variety of commercial drones and AMR solutions