Smartization has become a critical initiative to the healthcare industry in recent years. The incorporation of diverse innovative technologies, including LED, has given a boost to healthcare service quality. According to EPISTAR senior director Dr. Shao-You Deng, LED beams of different wavelengths used to measure physiological signals of the human body stand a chance of replacing the conventional invasive approaches to become the mainstream medical measurement technology. EPISTAR has built up strong LED technology and capacity advantages that will continue to step up efforts toward this market segment.
Before seeing the doctor, people usually need to have their physiological signals such as heart rate and blood pressure measured by specific instruments. To make the process easier, high-tech firms have been marketing wearable devices including smart watches and wristbands that use LED light sources to detect the user's heart rate and aggregate the measurements for big data analytics to guide subsequent care plans.
According to Dr. Deng, the physiological signals are now generally measured using specific devices such as blood pressure gauges and blood glucose meters and the measurements only indicate the health condition of the person at the time when he is tested. With wearable devices emerging, continuous measurements become available. However, network communication quality and charges prevent the continuous measurements from being uploaded to the backend management platform in real time so there is a limit to the benefit of wearable devices. This may be overcome with the advent of 5G communication, which features high bandwidth, high-speed data transfer and massive connectivity. Wearable devices will be able to maintain uninterrupted connection with the backend platform to allow the system to constantly monitor the user's physiological signals and instantly respond to emergencies.
Smart watches introduced by leading tech firms including Apple, Samsung and Xiaomi all come with a heart rate monitoring feature. For example, Mi Band, Apple Watch and Amazon Halo use green 520-540 nm LED for photoplethysmogram (PPG) based heart rate monitoring to enable their healthcare features. EPISTAR senior engineer Dr. Yung-Hsin Lin noted such non-invasive health monitoring solutions are a clear trend now and LED technology will play a critical role to these solutions. Having built up robust LED technological capabilities through years of efforts, EPISTAR is a strong support for smart healthcare device manufacturers.
When LED technology was first being adopted in smart healthcare solutions, EPISTAR had begun to work with customers looking to expand into the market segment, said Dr. Lin. After a period of testing, EPISTAR found the most suitable LED technology for use in end devices. For example, 620 - 1000 nm red and infrared light became the LED market standard for heart rate and blood oxygen level monitoring. Aside from the applications of LED with different wavelengths, EPISTAR has also developed products that meet power consumption requirements by wide-ranging healthcare devices. For instance, EPISTAR offers LED products for wearable devices that combine precision and energy efficiency. Visitors to Touch Taiwan 2021 will see EPISTAR's LED solutions for healthcare devices covering a full spectrum of wavelengths.
Not only does EPISTAR hold strong advantages in product portfolio and production capacity, but it is also among the very few Taiwan-based LED suppliers that offer LED products covering all wavelengths. For short-wave infrared (SWIR) light, which will be used in smart healthcare applications going forward, it has developed the first-generation transmitter sensor. According to Dr. Deng, SWIR is classified to have wavelengths above 1,100 nm and requires the use of InP substrates. EPISTAR is also one of the few LED suppliers capable of producing SWIR sensors spanning across 1,100 nm, 1,300 nm and 1,500 nm ranges. Furthermore, its unique epitaxy process enables EPISTAR to make SWIR LEDs that deliver 10% to 15% higher power and require 5% to 10% lower voltage compared to products of Japanese manufacturers. More importantly, it is capable of large-scale production, ahead of most other LED suppliers in the world.
Leveraging its strength in capacity, technology and quality, EPISTAR will aggressively grab the smart healthcare market. Initial-stage efforts will focus on consumer products that do not require certifications, with plans to expand into professional-grade medical devices going forward. In conclusion, Dr. Deng and Dr. Lin noted that despite the promising outlook for non-invasive LED-based measurement in the smart healthcare market, the performance of LED-based measuring devices will hinge on the precision and energy efficiency the LED can deliver. EPISTAR's expertise in LED and healthcare will make it a strong support for device makers, helping them capture rising opportunities.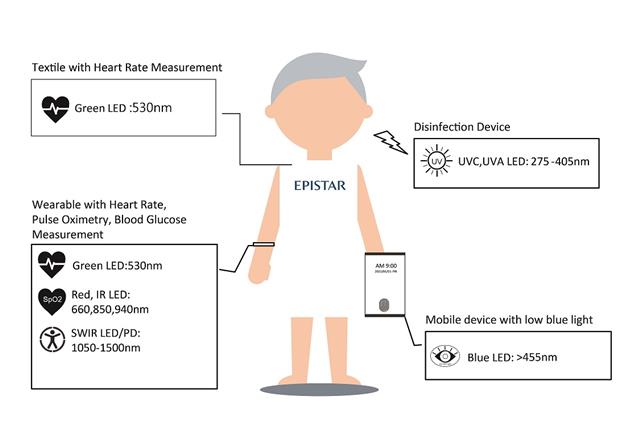 Source: EPISTAR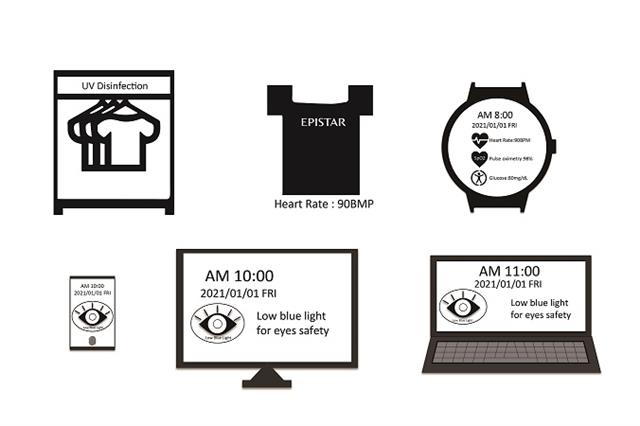 Source: EPISTAR
DIGITIMES' editorial team was not involved in the creation or production of this content. Companies looking to contribute commercial news or press releases are welcome to contact us.