Wearing a helmet camera as we know it from ski races on TV, or a smartphone gimbal, a technician is walking through the production hall showing a customer, with whom he is connected, the important production steps in manufacturing a high-tech printed circuit board. The coronavirus pandemic reinforces trends that have been imminent for years and are now becoming reality due to the strict COVID-19 measures. AT&S has developed a concept for conducting virtual audits in which the customer or partner does not have to be physically present on site; rather they can visit the plant virtually thanks to technical tools such as VR glasses and video streaming. This innovation will also be used after the pandemic.
"Limited possibilities to travel and the COVID-19 protection measures in the plants have made it nearly impossible to conduct on-site audits," says Michael Monschein, Head of Corporate Quality Assurance at AT&S. He started to address the development of virtual audits at AT&S immediately after the corona crisis broke out. Customers use audits specifically to obtain information on production steps and to check the quality of the products, which must be 100 percent secure and reliable.
The participants in the audit can be interconnected via a collaboration tool and communicate with one another; the auditor can access all documents within a very short period of time and is continuously connected to all persons responsible. "The topics of the audit can be shared with multiple participants in different places and in real time," Monschein explains. One of the challenges is data security because access rights, the security of data connections as well as the restriction of functions such as taking pictures or recording videos must be regulated in virtual audits. Another important topic is intellectual property - compliance with IP rights must be guaranteed. At some AT&S plants a strict camera ban is in place for confidentiality reasons. In the past, AT&S used VR glasses. In the future, smartphone gimbals will be employed to balance out movements. The advantage of this solution is that attaching a smartphone to the gimbal is the only thing necessary for the video livestream.
"I consider this an important contribution to offering our customers full transparency, even in times when plant visits are not possible, and full compliance with requirements under the given circumstances," says AT&S CEO Andreas Gerstenmayer. "This not only makes us one of the few industrial enterprises to be able to qualify with new customers through audits, but we can also demonstrate that we continue to develop under difficult circumstances and can position the company for the future." Regarding the ever more important topics of climate protection and social responsibility, remote audits, which will also be conducted after the pandemic, will make a significant contribution, Gerstenmayer says. In February, AT&S started the first virtual recertification audit in the automotive sector. The first audits with customers (they may not be named) are already being planned.
AT & S Austria Technologie & Systemtechnik Aktiengesellschaft - First choice for advanced applications
AT&S is a leading manufacturer of high-end printed circuit boards and IC substrates. AT&S industrialises leading-edge technologies for its core business segments Mobile Devices & Substrates, Automotive, Industrial and Medical. AT&S has a global presence with production sites in Austria (Leoben, Fehring) and plants in India (Nanjangud), China (Shanghai, Chongqing) and Korea (Ansan near Seoul). The company employed roughly 10,000 people in the financial year 2019/20. For further information please visit www.ats.net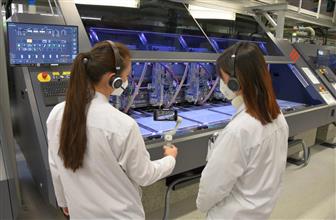 AT&S positions itself as a pioneer for virtual audits enabling customer visits via VR
DIGITIMES' editorial team was not involved in the creation or production of this content. Companies looking to contribute commercial news or press releases are welcome to contact us.