AU Optronics (AUO) will expand its capital spending in 2021 to ramp up its output of LCD panels for IT and other premium applications.
Its capex for 2021 will reach NT$22 billion (US$785.82 million), up from the NT$15.6 billion spent in the previous year, according to a company statement.
The increased capex will be used to finance the installation of new production lines, and to optimize and realign existing ones, the company said.
It will prioritize expanding its production facilities for IT panels to meet robust end-market demand supporting remote work and study activities. Global notebook shipments grew over 20% in 2020, with the sales momentum to continue through the first half of 2021, said the company.
AUO focuses on high-end LTPS notebook panels with high resolutions and low power consumption. Its notebook panel shipments grew over 50% on year in 2020, placing it on the top of the world's vendor rankings in the segment.
It will also enhance its deployment in the premium panel segments, depending on market conditions and long-term order visibility.
It noted that panel demand for automotive, entertainment and medical applications has been high since the second half of 2020 and will persist into 2021.
AUO will also increase its investments to develop high-end TV panels in 2021, having seen its shipments of large-size 85-inch and 8K bezel-less TV panels increase exponentially in the previous year.
It will also double down its efforts to develop large-size monitor and curved gaming monitor panels, as well as over 85-inch whiteboard and conference boards this year.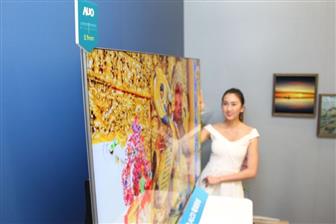 AUO to ramp up capacity of high-end panels in 2021
Photo: Michael Lee, Digitimes, February 2021