TAIP promotes instrumentation industry
Sandy Du, DIGITIMES, Taipei
Taiwan Advanced Instrumentation Project (TAIP) is a project in the digital infrastructure category of the government's Forward-looking Infrastructure Development Program. It aims at promoting Taiwan's R&D, manufacture and utilization of advanced instruments. According to the program's first principal investigator and Academia Sinica academician Chung-Hsuan Chen, Taiwan imports more than NT$170 billion (US$5.86 billion) worth of analytical instruments every year. In view of the enormous market sizes both at home and abroad, the Taiwan government looks to consolidate domestic research efforts to help instrumentation industry and hopes to become Asia's No. 2 exporter of advanced instruments, second to Japan.
Chen pointed out two unique advantages of Taiwan's instrument industry - flourishing developments of machinery, electronics and semiconductor industries and continuing government investments into infrastructure build-up. These will provide a solid foundation for TAIP. For example, as semiconductor manufacturing moves forward into advanced process technologies, such as the 3nm node, the production efficiency heavily relies on advanced analytical instruments to conduct high-precision tests and measurements of ultra-low level impurity materials to improve yield. Such instruments that are fundamental to process technology advances may not all be readily available on the market. This is where Taiwan's advanced instrument development teams come into play. It is also the goal that the teams are striving for. This team aims to develop novel instruments taking into account both functionality and cost advantage while enabling portability to achieve on-time and on-spot analysis for expanding world market share for Taiwan's instrument industry.
TAIP: Measurement technology IP protection and control software development
Yi-Sheng Wang, researcher, Genomic Research Center, Academia Sinica, currently heads TAIP. According to Wang, the program focuses on facilitating development of advanced analytical instruments including mass spectrometers, electro-optical analytical instruments and biomedical analytical instruments. It is aimed at accelerating and broadening industrial applications of research results. The category of biomedical analytical instruments generally encompasses all testing equipment used at medical institutions. Electro-optical analytical instruments are often used for illegal drug, environmental pollutant and food safety testing. Mass spectrometry is seeing important technological breakthroughs and enjoying rapid growth in application market in recent years, making mass spectrometers indispensable for scientific tests and measurements.
Wang noted that the development of advanced analytical instruments hinges on technological know-how. For example, to develop an innovative and competitive product requires a group of machinery, electronics and software experts to work in collaboration, so that the protection of intellectual property is crucial. Global advanced instrument manufacturers generally develop their products by way of system integration. They protect their core products with strong patent planning or obtaining licensing from research organizations to maintain their competitive edge. Another key point is the ability to design software that performs robust and fast data analytics. As to brand name that consumers attach great importance to, it usually cannot be built overnight but can only be crafted over time.
The program has generated impressive results with multiple startup firms being formed. For example, for illegal drug testing, a National Taiwan University (NTU) team has developed a portable rapid screening device and an Industrial Technology Research Institute (ITRI) team has developed a terahertz imaging system to help the government crack down on substance abuse. For biomedical applications, an Academia Sinica team has presented a solution combining photochemistry and microscopic imaging technology to precisely capture images of specific cells, which is of great significance to biomedical and pharmaceutical researches. Moreover, an IRTI team has created an AI-enabled infrared camera system for patient care, which can actively issue alerts to reduce the chance of accidents and help boost long-term care institutions' capacity and quality. Additional research achievements include chemical analysis instruments and public safety devices, for which Academia Sinica teams are working on early-stage development and commercialization can be expected when manufacturers or brand vendors take over.
Easing of regulations will invigorate the industry with resources for sustainable development
Executers of TAIP are making plans to enable continuing development as the program is set to complete its short-term objectives and conclude by year-end 2020. As most investors want to see a quick return on their investment, the instrument industry usually needs sustainable development. Chen suggests that the government start by easing regulations as what was done with the Act for The Development of Biotech and New Pharmaceuticals Industry to allow more flexible use of investors' funds and diverse sources of funding for the industry. Efforts should also be made to bridge venture capital funds with Taiwan's high-tech industries and build up connections that will bring bigger opportunities for Taiwan's instrumentation industry.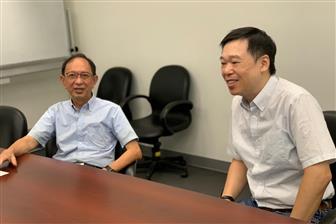 Chung-Hsuan Chen, Academia Sinica academician (left), and Yi-Sheng Wang, researcher, Genomic Research Center, Academia Sinica (right)
Photo: Sandy Du, Digitimes, September 2020