Suppliers positive about demand for scissor-switch keyboards from Apple
Rebecca Kuo, Tainan; Joseph Tsai, DIGITIMES
Suppliers engaged in the supply chain for Apple's new products featuring its redesigned scissor-switch Magic Keyboard are ramping up production and have seen no cutbacks in the orders despite concerns over the coronavirus, according to sources from the upstream supply chain.
Apple's new 11- and 12.9-inch iPad Pros released recently both support the Magic Keyboard, which will become available in May at US$299 for the 11-inch model and US$349 for the 12.9-inch one, the sources noted.
Apple's new 13.3-inch MacBook Air is also natively equipped with the Magic Keyboard. So far, Apple has a total of four machines that have used the new keyboard design, said the sources.
As the coronavirus pandemic is spreading fast, demand for tablets and notebooks from studying at home has been picking up and boosting orders for Apple's new devices.
So far, Apple has not cut any of its orders with the upstream supply chain for 2020, but related upstream suppliers are still closely monitoring the coronavirus development.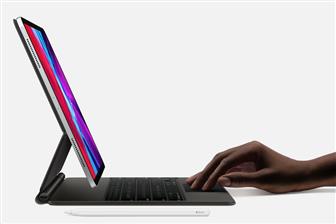 Apple placing aggressive orders for its Magic Keyboard
Photo: Company