8K can expand 5G applications, as there are a lot of details, information, and analyzable data available in the stunning ultra-HD images, according to Masaru Nagayasu, fellow for Socionext's Marketing Division.
Speaking at the 5G/Innovation Summit 2019 jointly organized by the Taipei City Government and Digitimes on November 25, Nagayasu noted that successful integration of recorded 8K images with real life has reached a level of visualization that can trick the human eye.
He illustrated his point by showing a video clip of such an integration at the event.
8K images feature fidelity of real conditions, high resolution and high immersion and can offer excellent visual effects through high compression and stable transfer of images at high speeds, Nagayasu said.
Founded in 2015, Socionext is a Japan-based design house of SoCs for consumer electronics, automotive and industrial application. The company has helped Fujitsu and Panasonic in R&D of digital TV broadcast encoders and SoCs used in DSLR cameras and 4K/8K TVs.
Socionext has cooperated with GoPro to develop Hero 7 Black and with other companies to develop VR/XR headsets.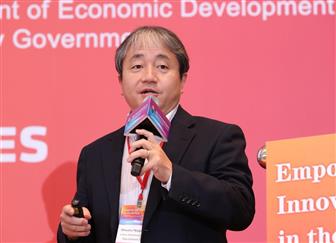 Masaru Nagayasu, fellow for Socionext's Marketing Division
Photo: Digitimes staff, November 2019