Yahoo! Kimo sets up automated logistics center for online shopping
Yihan Li and Annie Chen, Taipei; Adam Hwang, DIGITIMES
E-commerce operator Yahoo! Kimo has converted two conventional warehouses in northern Taiwan into an automated logistics center for delivering online purchased merchandise items.
For the center's establishment, iAmech supplied automated logistics equipment, government-sponsored Industrial Technology Research Institute (ITRI) provided AI-based automation software, and HCT Logistics undertook hardware/software integration, Yahoo! Kimo said.
In order to maximize efficiency in using storage space units, decision on receiving merchandise items from suppliers and the corresponding volumes is based on online orders and thereby dynamically adjusted, Yahoo ! Kimo noted. The decision includes consideration of seasonal changes, peak demand in festivals or on holidays and predicted demand based on historical data, Yahoo ! Kimo indicated.
As locations of storing merchandise items influence efficiency in sorting and delivering merchandise items, AI-based high-density dynamic storing and picking technology is adopted for automatically distributing storage space units, Yahoo ! Kimo said. In principle, storage space units for correlated merchandise items, such as matched cosmetic products, are in the same places to minimize frequency of and time taken in storing and picking, Yahoo ! Kimo noted. The AI-based technology regularly adjusts locations of storage space units based on daily deliveries and recent sales conditions, with more frequently stored and picked merchandise items placed at more accessible locations, Yahoo ! Kimo indicated.
Compared with the original two warehouses, the automated logistics operation has increased warehousing capacity by 50% and SKU (store keeping unit) by 250%, and decreased average storage time at the center by 60%, Yahoo ! Kimo said, adding the time from purchasers' placing orders to beginning deliveries has been shortened from 20-30 minutes originally to 10 minutes.
With an automation level of 80%, labor input at the center has decreased by 30%, Yahoo ! Kimo said, adding labor is mainly used in receiving shipments, packaging and handling merchandise items, while a CAPS (computer-assisted picking system) is used to reduce human errors in the picking process.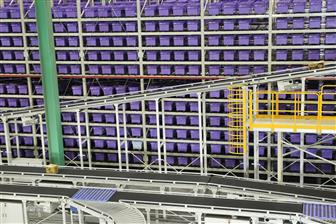 Yahoo! Kimo's automated logistics center
Photo: Shihmin Fu, Digitimes, November 2019