Sensors enabling innovative user experience: Q&A with AMS CEO Alexander Everke
Cage Chao, Taipei; Willis Ke, DIGITIMES
Austrian sensor chipmaker AMS has developed a wide range of solutions supporting innovative user experiences for consumers, leveraging its tech prowess to expand its presence in terminal markets.
Over the past three years, AMS has clinched around 10 acquisition deals to broaden its offerings and boost tech upgrades. In a recent interview by Digitimes, company CEO Alexander Everke talked about AMS' acquisition strategies and goals, future innovation trends for smartphones, and global sensor application market prospects.
Q: AMS has offered to take over Germany-based lighting group Osram. What's the latest progress and your core strategy for the buyout bid?
A: AMS officially announced on August 21, 2019 a voluntary public takeover offer for Osram through its wholly-owned subsidiary Opal BidCo. We hope to leverage Osram's strong market presence and technological leadership in optical semiconductor and automotive electronics to become the world's top leader in sensors and optical solutions. Both companies have made preparations for resources integration, and our experiences in successfully handling acquisitions and deep understanding of the supply chain are expected to help achieve brand-new leadership in tech innovations.
Q: AMS has been keenly pursuing international acquisitions. What goals have you set for such deals?
A: Over the past few years, AMS has acquired quite a few companies including Heptagon, Princeton Optronics, CMOSIS, KeyLemon and Mazet, respectively engaged in developing optical imaging, VDSEL, and wafer-level optical engineering technologies. The acquisitions can help AMS accomplish the goals of optimizing its product lines and extending technological leadership. Most importantly, we've identified the right direction, in line with which we will make bold investments.
For acquisitions, we mainly target enterprises that can bring us complementary technologies and solutions to let us provide clients with better and more extensive technologies and services while also further driving our business growth and market shares expansion.
Q: How do you assess growth and innovation prospects for smartphones?
A: After years of growth stimulated by tech innovations, the global handset market has gradually slowed down as it's increasingly difficult for vendors to come up with impressive, innovative features for their new offerings, whether iPhones or Android models. The terminal market is also getting saturated. Nevertheless, AMS has found ways to crack the nut and is actively cooperating with clients to develop new terminal devices.
In the global mobile device market, the most marketable products have shifted from smartphones to peripherals, wearable devices and speakers. AMS can utilize its leadership in sensor technologies to help new and existing clients develop handset peripheral components, automotive electronics, industry control systems and IoT devices, for which our R&D team has also made significant deployments for years. We are confident that ever-advancing core sensing technologies will continue to provide new user experiences.
Q: How do you see the tech development trend for new-generation smartphones?
A: In our discussions with clients about new-generation smartphone designs, we have found that frontend 3D facial identification, bezel-free screen design and camera function upgrades are new development directions.
Currently, mainstream 3D facial identification technology can fully meet personal ID verification, security assurance and online payment requirements. There are now three major image sensing technologies - SL (structured light), ASV (active stereo vision) and ToF (time of flight) - suitable for different application scenarios. Through its SL sensors, AMS can provide clients with optimum short-range depth map and top security images, and its ASV sensors boast high price/performance ratio and are suitable for long-range image detection. The latest ToF sensors are smallest in size, ideal for mid- and long-range application and easier for system integration, likely to emerge as a mainstream design.
The all-screen, bezel-free design era for handsets has officially arrived in 2019 following more than one year of development, with screen-to-body ratio reaching almost 100%, triggering strong demand for behind-OLED sensors from handset vendors. In this respect, AMS has presented a series of RGB and infrared proximity sensor solutions that can accurately measure ambient light intensity from behind the OLED screen, helping clients materialize bezel-free screen designs for their handsets.
Latest camera function enhancements highlight laser detection auto focus (LDAF), VR, automatic white balance control and light source flicker detection capabilities for handsets. AMS has launched 1D ToF distance measurement sensor, which can execute LDAF and resist stain interference and sunlight on camera lens glass cover. And its brand-new color temperature sensors and light source flicker detection engine are also designed to boost camera performance and picture quality.
Q: Samsung Electronics is reportedly set to implement a US$100 billion sensor development project seeking to tap the lucrative worldwide sensor market. How do you see the ensuing industry and market evolutions?
A: AMS believes that the global sensor market will keep expanding and is confident about its performance in the market. Besides strengthening its tech prowess and leadership through a spate of acquisitions, AMS has ventured its sensor platforms into many domains beyond consumer electronics, including automation equipment, energy conservation and environmental protection, AR/VR, and social media entertainment applications. It has also teamed up with major strategic partners to jointly explore huge terminal market opportunities.
AMS has seen its three major technology platforms - optical, image and audio sensors - adopted by clients in six different market segments - consumer electronics, computing, communications, healthcare, industrial and automotive. For AMS clients, their core competitiveness has come from innovations, and AMS has been striving to provide them with diverse product portfolios and one-stop services and solutions.
Q: How do you gauge the development trend for sensor applications to the global automotive electronics market?
A: In applying 3D sensing technologies to terminal handset products, we have also found their application opportunities in the global automotive and industrial electronics sectors. AMS has targeted LiDAR as a key application outlet for 3D sensor solutions in the automotive electronics sector, and has offered newly developed high-power VCSEL solutions as light source for LiDAR developers, helping them work out new-generation LiDAR solutions with high definition, high environment adaptability and high price/performance ratio, able to outstrip MEMS solutions in both cost and performance.
AMS has also moved to help clients incorporate 3D sensors into new application segments such as driver identification, driving monitoring and smart gestures, aiming to enhance mutual trust between vehicles and drivers and upgrade driving safety. Also, AMS is poised to collaborate with its automotive clients to develop new application solutions by incorporating its distinct micro lens array projection technology into automotive electronics designs.
Q: How do you see the future direction for innovative applications of audio sensors?
A: Driven by ever-expanding sales of AirPods series, the global market scale of TWS (true wireless stereo) headphones is estimated to double to US$11 billion in 2020 from US$5.4 billion in 2018, and growing requirement for high audio quality has enabled AMS to enjoy business opportunities for its active noise cancellation (ANC) technology earlier than expected. AMS has been a leading supplier of ANC chip solutions for headphones and earplugs, with the solutions integrating hybrid ANC technology and zero-latency analog signal processing capability to effectively reduce ambient noise of over 40dB in headphones and sharply lower power consumption at end devices.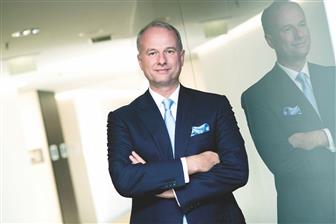 AMS CEO Alexander Everke
Photo: Company