The completion of the first 5G NR standard specified in 3GPP, the frequency bands are being separated into two different frequency ranges named sub 6 GHz and the millimeter-wave (mmWave) bands. The large amount of underutilized spectrum in the mmWave frequency bands are a viable solution for achieving tens to hundreds of times more capacity compared to current 4G networks. The beamforming technology is widely used in the telecom industry when referring to 5G. This technology uses an array of multiple antennas to intelligently form the patterns transmitted to or received from a large antenna array by controlling the direction of a wave-front. That is, the mmWave beamforming technology is an enabling technology for 5G.
TMY Technology (TMYTEK) is a Taiwan based startup company and leading 5G beamforming solution provider. The company is focusing on mmWave technology and RF (Radio Frequency) front end solutions by providing highly modulized beamforming systems that enable 5G designers to successfully develop innovative antenna and baseband technology.
This award-winning startup is gaining exposure of working with national research institutes and several Taiwan electronics manufacturers. TMYTEK develops cost-effective solutions solving technology challenges of mmWave through its unique and complicated skills of controlling weighting the magnitude or phase of signals in an array of multiple antennas. The value of the company product offerings is widely recognized and continue to move to accelerate 5G product development in Taiwan electronics industries. For fast-expanding business into China and Taiwan region, TMYTEK engages the business partnership and work with ACE Solution to attract more opportunities in the future.
Aiming 2020 Startup Event at Barcelona to connect with global ecosystems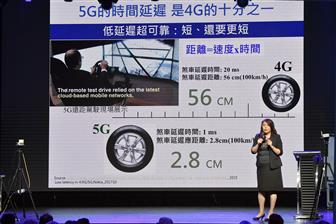 Nicole Chan, vice president of the Science and Technology Law Department at the Institute of Information Industry, at the event.
On August 22nd 2019, TMYTEK holds "#BeamUp 5G Product Launch" event to showcase their recent development of 5G mmWave technology. The invited speakers include Chunghwa Telecom, ACE Solution, AAMA Taipei Startup Camp and Nicole Chan, Vice president of the Science and Technology Law Department at the Institute of Information Industry. In the guest open remarks session, the investment department of Chunghwa Telecom will offer the funding program to help TMYTEK to join the 4YFN Startup Event at Barcelona during Mobile World Congress 2020. This will help TMYTEK to connect with global 5G ecosystems and discover more opportunities for business and finance support.
Su-Wei Chang, President of TMYTEK, talks the major milestones when he found the company in 2014 in his keynote. He looks at the beamforming technology continuing to gather strong R&D momentum from industries. With the 5G transition, there are a lot of new businesses appearing, reshuffling existing value chains and creating new markets. Building a 5G R&D ecosystem and partnership will help to shape the future of 5G development in Taiwan. TMYTEK is trying to form an industrial mmWave development platform to continue to make contributions to Taiwan 5G community.
Showcasing XBeam, AiP and BBox for fast-tracking achievements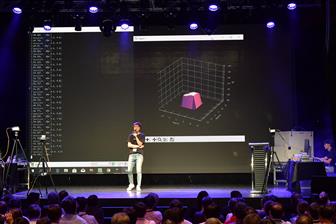 Inside the XBeam chamber, there is a DUT (device-under-test) being tracked. On the right side of the screen it shows how the DUT's beam looks like.
The XBeam, AiP and BBox product series become the spotlight of the event. Ethan Lin, Vice president of TMYTEK, demonstrates these major solutions for 5G antenna design and production test. The first live product demonstration is the Beamforming Box (BBox). This is a powerful development tool and design kit for mmWave antennas. The current BBox product series is the third generation design with several different models.
The BBox One is the flagship product with 16 independent RF channels fulfilling the developers' requirements. The standard BBox product is a hardware device with various options of software GUIs and API tools. The friendly product design will ensure customers opening the box and ready to use. Another version called BBox Lite equipped with 4 RF channels is most suitable for engineers to emulate UE beamforming performance. The current frequency band support is 28GHz. And the 39 GHz version will be available within this year.
XBeam OTA test solutions aiming to reduce massive cost in 5G antenna production lines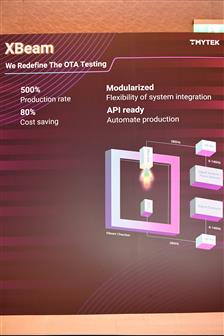 XBeam
With a dramatic increase in user expectations on the 5G network, the demands for testing devices and base stations solely on an OTA (Over-the-Air) manner becomes essential. The OTA Test is a standard process to evaluate radio performance of 5G devices. It requires dedicated test chambers and sophisticated testing instruments to perform the full testing procedures. The test and measurement solutions are critical for mass production stage because of the high setup expanse and testing cost. TMYTEK uses BBox One as a scanning probe combined with a testing chamber to create a competitive test solution for the industry. That is the XBeam Test and Measurement solution.
The key is the Beam Steering technology, Lin highlights. Using BBox One with TMYTEK dedicated software control in a test chamber will have better simulation to test RF modules performance of various orientation angles. Obviously, the benefit is reducing testing time for each DUT (device under test) because saving time from rotating the DUTs mechanically. Through XBeam test solution, the overall testing time in the mass production stage could be reduced for 10 to 15 times compared with traditional rotating test chamber approach. This is the reason why Taiwan electronics manufacturers so exciting to see XBeam test solution to be launched.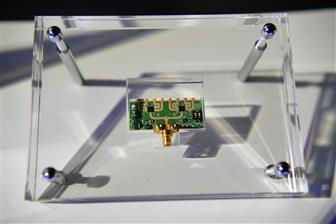 AiP, antenna-in-Package, is a miniature module combined with the functions of BBox and UD Box. Our AiP is made ready to help users to prepare, design, test, and deploy beamforming solutions for small cells, User Equipment, CPE, and 5G research.
There are other products showcasing to gain attention. For example, the XRifle is the technology to optimize the number of base stations for solving the issues of coverage-constrained base station deployment. Lin adds, the concept is using the signal repeater devices to maximize the 5G signal coverage. . Meanwhile, in the semiconductor product showcase, the AiP (Antenna in Package) chip is not only a proof of concept design, it is a funcational prototype and can be used as the base for the future cusomization. This module is an 8×8 antenna arrays. It could be tiled up to form 4K antenna arrays in theory. These product demonstrations have successfully show TMYTEK technical strength of 5G antenna arrays and test solutions to Taiwan technical sectors.
Technical partnership makes us work together and go far
As in a world where quick execution and first-mover play a key role in success, TMYTEK is looking to reinvent itself and continuing to explore mmWave technologies for delivering innovative industrial solutions from design to mass production the 5G products. Talking the next step for TMYTEK, the company is aiming to develop solutions embracing the trend of satellite Internet services. Satellites are a reasonable way to provide internet access where previously there was none.
Su-Wei Chang talks to his next big move for planning the projects to develop satellite receivers leveraging the mmWave technologies. But no one company can do it alone, he adds. It requires a partner ecosystem. Taiwan electronics manufacturers and ecosystem partners have traditionally differentiated themselves from the rest of the industry. This is how they have managed to stay ahead of the game. Like the key theme in this event, "Alone we go faster, together we go further", which is the most important message that TMYTEK would like to share with investors and partners.