Edimax globally deploys over 4,000 AirBoxes
Mark Tsai, Taipei; Adam Hwang, DIGITIMES
Enterprise- and SOHO-use networking device maker Edimax Technology has globally deployed more than 4,000 AirBoxes, an air quality detector and monitor, according to the company.
The deployment consists of more than 3,000 AirBoxes in Taiwan, mostly in its six biggest cities; more than 1,000 units in South Korea; about 100 units in Malaysia; fewer than 100 units in Bangkok, Thailand, Edimax said.
The second-generation AirBox comes with an LED display for push notification of air quality data, mainly densities of PM2.5, carbon monoxide, TVOC (total volatile organic compounds) and HCHO (chemical formula for formaldehyde), Edimax noted.
For the air quality detecting and monitoring business, China, Southeast Asia, South Asia and Africa are target markets, Edimax indicated.
Edimax has been working with some large hospitals and universities in Taiwan to provide air quality data for their development of precision medicine and remote medical care solutions.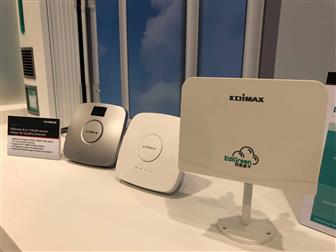 Edimax AirBox models
Photo: Mark Tsai, Digitimes, May 2019