Synaptics Incorporated develops Human Machine Interface solutions for smartphones, PCs, automotive and a variety of smart home devices such as speakers that are increasingly being adopted by consumers to simplify their daily lives. The company creates the silicon chips featuring touch, display, audio and video technologies that enable products to enhance the user experience and help make our digital lives more productive, secure and enjoyable.
While combining Internet of Things (IoT) and Artificial Intelligence (AI) technologies usually implies connectivity to the Internet or cloud, there is an increasing demand for more local, or edge-based processing capability to enable Consumer IoT devices to help improve performance, usability and security, as well as complement cloud-based functions or services.
This Smart Edge technology extends powerful data processing and machine learning to billions of edge devices, so they can act on the data from their sensors in real time and predict outcomes locally. The current hybrid cloud and edge IoT infrastructure is optimally decentralized where a percentage of the data is processed locally. This saves on bandwidth between edge devices and cloud servers, as well as acts to shorten latency where possible. It also reduces the issue of digital packet loss during data transmission and enhances data security.
At Computex Taipei 2019, Synaptics is showcasing a new product family that includes single silicon chip solutions and software stacks intended to widen the adoption of Consumer IoT products by enabling secure inferencing capability at the edge. Synaptics calls its technology platform Smart Edge AI which is an umbrella term for its AudioSmart and VideoSmart SoC families, software stacks, AI models, data encryption algorithm and inferencing engines. Smart Edge AI provides AI driven neural networks, processed at the edge, addressing all the key challenges in performance, robustness and privacy concerns, that stand in the way of wider adoption of Consumer IoT.
Smart Edge AI for wider adaption of Consumer IoT devices
In this interview with Synaptics, Mr. Saleel Awsare, Senior Vice President & General Manager of IoT Division, Corporate Marketing & Investor Relations, and Mr. Vineet Ganju, Vice President of Voice & Audio Marketing, talk about Synaptics Smart Edge AI technology and their unique product portfolio. These HMI technologies enable edge devices that can understand and respond to what we do, speak, or touch without a constant connection to cloud, Awsare highlighted. At Synaptics, the concept of Smart Edge AI will become an increasing important aspect of Consumer IoT in environments such as the smart home, automotive, smart cities and beyond, said Awsare.
Smart Edge AI is well-positioned for voice-enabled Consumer IoT devices such as smart hubs, smart speakers, TV set-top-boxes, home appliances, Wi-Fi routers and sound bars and is a necessity for other mainstream use cases like autonomous vehicles. However, with the continuing improvement of Smart Edge AI processing capabilities and growing spread of applications, new use-cases and services have been growing in the electronics industry.
AudioSmart SoC building secure Intelligence and superior user experience at the edge
The first key product showcase of Synaptics in Computex is the Smart Edge AI AudioSmart family. The new AS3xx SoC chip solution's fully integrated neural network acceleration provides features to support customized wake words and highly-advanced far-field voice processing.
The new AS3xx AudioSmart family is the introduction of fully integrated and purpose-built far-field voice processing and wake word technology. Having been used in a variety of global retail products for years, Synaptics continues to be well-positioned as a leader in voice processing solution to further improve voice pick-up in noisy, real-world conditions and barge-in capabilities even during very loud playback. These features help system makers benefit from the rapidly growing demand for voice assistant devices.
For supporting even more advanced enhanced user experience through better response times and robustness, Synaptics uses a new machine learning engine with its own Neural Network Acceleration and Processing engine. Features such as performing Automated Speech Recognition (ASR) and Natural Language Understanding (NLU) locally on-device provides a powerful value-add for OEM/ODM vendors or system integrators to build high performance voice control for consumer devices even when there is no internet connectivity.
Furthermore, by providing the complete solution including acoustics system expertise, Synaptics greatly reduces the time-to-market for smart home product manufacturers and allows them to add an excellent voice-first experience while maintaining focus on their core expertise.
In addition, the AudioSmart Smart Edge AI SoCs fully support existing voice assistants from global brands, such as the Line, Alibaba, Tencent, Baidu, Google, Amazon and other voice assistant platforms or service providers in different regions or countries. The AudioSmart Smart Edge AI SoCs are now shipping in millions of units to Synaptics customers and will be available on well-known consumer brands before the end of the year.
Meanwhile, in Taiwan, the recent promotion of a smart speaker project which responds to Mandarin speech by Chunghwa Telecom is one of major use cases leveraging Synaptics technologies, Ganju noted. With several voice control speakers starting to push strong sales in China and Taiwan via their own voice-controlled speakers, there will be explosive growth in demand from Chinese-speaking communities.
VideoSmart VS-550 SoC demonstrating AI fast tracking video contents scenarios
The VideoSmart Smart Edge AI VS550 SoC solution is the latest offering and features the integrated AudioSmart Far-Field Voice function and AI enabled capability for smart home devices. One of the major products in the market to leverage the VS550 SoC is the new set-top-box of SK Broadband services in South Korea. The product is introducing new values of streaming video services by SK Broadband that deployed Synaptics-enabled voice command control.
An example of VideoSmart products using Smart Edge AI on a set-top-box includes machine learning to train the device to fast forward to specific events in a sports game such as soccer goals, or baseball pitches. This can be done during a live broadcast to catch up, or for playback while viewing the pre-recordings of sports event. This AI enabled content searching capability is delivering a compelling TV service with more intuitive, exciting entertainment experience for subscribers.
This VS550 SoC is designed for Android TV-based set-top boxes and other consumer IoT devices like smart doorbell systems. As more camera devices go into edge devices, and most people are talking to devices and not touching them as much anymore, the AI driven technologies like voice, audio, video and biometric recognition technology get more attention and become the most exciting and fastest growing human interface modalities today.
Consumer IoT HMI technologies become multimodal
Today, Synaptics offers a range of HMI capabilities from touch, voice, audio and video, expanding far beyond the company's traditional strengths in touch. With notable security features at the edge, Synaptics Smart Edge AI product offerings are more advanced technology with secure inferencing and enterprise grade encryption for edge systems. These technologies use encrypted data in which the privacy data is stored at the edge. The most significant value of this approach is that it could allow user's data to only be processed by application processors and the accelerator and not in the cloud.
Awsare claimed that with its near-term product deployments and highly integrated AI solutions at the edge, Synaptics is ushering in a new age for Consumer IoT sectors and looking to expand market share and business opportunities. As the global leader of HMI SoCs and with more than 35 years providing the solutions in Taiwan OEM/ODM and ecosystem, Synaptics has a strong presence in this important market.
For further exploring Synaptics Smart Edge AI product series, please join Computex Taipei 2019 Exhibition, where Synaptics will be showcasing latest technologies. Contact your local Synaptics sales representative for a demonstration.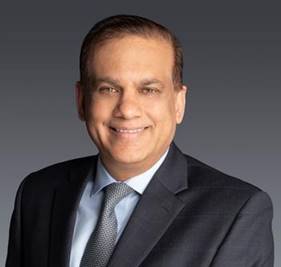 Mr. Saleel Awsare, senior vice president & general manager of IoT division, corporate marketing & investor relations
DIGITIMES' editorial team was not involved in the creation or production of this content. Companies looking to contribute commercial news or press releases are welcome to contact us.