BenQ Materials tapping high-margin polarizer segments
Rebecca Kuo, Tainan; Steve Shen, DIGITIMES
Polarizer supplier BenQ Materials has been striving to improve its product mix focusing on the development of high-margin products for applications including the PID (public information display), 8K display, foldable smartphone and automotive panel sectors, according to company sources.
Shipments of high value-added and high-margin products will account for 20% the company's total sales in 2019, up from 10% seen a year earlier, said the sources.
While showcasing foldable AMOLED panels built with its flexible polarizer products at SID's Display Week from May 14-16 to demonstrated its production capability, BenQ aims to kick off volume production of its circular polarizers for foldable smartphones by year-end 2019.
The company has been shipping traditional OLED circular polarizers to AU Optronics (AUO) and other China-based makers for the production of wearable devices.
BenQ also highlighted its light-control polarizer products for automotive CID (central information display and cluster displays at the just concluded trade fair. The light-control polarizer films are able to suppress glaring sunlight in the daytime and reduce panel luminance influence in the night time, helping improve driving safety, the company stated.
The company was also promoting its PNLC (polymer network liquid crystal) reverse dimming films which can apply to sandwich structure of automotive windows, overcoming a major shortcoming of the conventional PDLC (polymer dispersed liquid crystal) films that made automotive windows look blur with mist when the power is being cut off.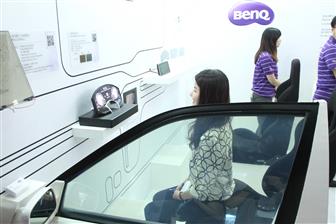 BenQ Materials developing high-margin polarizers for automotive applications
Photo: Shihmin Fu, Digitimes, May 2019