Tourism Bureau promotes smart travel to enrich Taiwan travel experience
Yihan Li, DIGITIMES, Taipei
Taiwan received 11 million visitors in 2018 and the number of tourism businesses has grown 21% over the past three years, indicating tourism in Taiwan is booming. With do-it-yourself trips quickly taking over guided tours to become the mainstream, traveler behavior is changing and travel experiences are being reshaped. This has prompted more and more tourism and hospitality companies to engage in new ways of conducting business and come up with new ideas on how to help travelers gain access to information faster and easier.
Yung-Hui Chou, director-general, Tourism Bureau, comments that as the government agency in charge, the bureau is looking to help tourism and hospitality businesses upgrade and leverage Taiwan's technological strength to promote smart travel. "When data undergoes analysis, it becomes more useful and valuable," says Chou.
Raising the bar on transportation services for travelers
Innovative technologies have reshaped how people travel. According to Chou, transportation services are the lines that connect the dots on people's journey. Transportation services can encompass the collection of pre-travel information, transfers between modes of transport during travel, gathering of traveler feedback and analysis of tourism hotspots after travel. Whether and how such transportation information is made available, used and analyzed plays an influential role on people's travel experience. However, transportation has not fully engaged with tourism until now. The Tourism Bureau is taking the initiative to consolidate the information and present it in eight different languages on the itravel website. By providing information on travel, transportation, tourist attractions, gourmet food among others in the form of webpages, which travelers can easily browse without having to download apps to their smartphones, the Tourism Bureau hopes to enable a smoother and more enjoyable travel experience.
The Tourism Bureau also endeavors to leverage technologies to raise traveler satisfaction. First of all, to resolve traffic and overcrowding issues at major events such as the Lantern Festival, parades and New Year's Eve celebrations, it is working with Chunghwa Telecom to gain access to the actual amount of people flow by tracking cellular signaling data as well as traffic flow information from the Directorate General of Highways. The Tourism Bureau looks to use push notifications to inform travelers at crowded areas of people and traffic flow conditions in real time so that they can avoid congestions and thereby get diverted to less crowded areas. The Tourism Bureau also hopes to make use of cellular signaling to effectively calculate attendance at an event, further estimate and assess the commercial value the event can generate and conduct post-event review for future improvement.
The Tourism Bureau's use of cellular signaling has been field tested at Alishan Scenic Area and Sun Moon Lake. Travelers receive push notifications from telecom operators and are kept informed of real-time road conditions. Traffic authorities such as those in charge of traffic control, highways and interchanges can respond to actual traffic flow conditions with different control solutions.
Balancing cross-region tourism developments in Taiwan
Although Taiwan is receiving an increasing number of international tourists in recent years, most of them only visit northern Taiwan. In an effort to balance tourism developments across the island, the Tourism Bureau will collaborate with local travel agencies and airport authorities to offer compelling airfare discounts to international visitors entering Taiwan through airports in central and southern Taiwan, thereby diverting tourist flow to the regions.
Tailoring guidance services for different types of businesses
The Tourism Bureau implements different guidance programs suited to fit young startups and seasoned veterans in the tourism business. To new companies that are full of innovative ideas, the Tourism Bureau will ease regulations and open up databases to help them realize their ideas. It will also hold brainstorming contests and offer prize money to encourage startups to come up with creative service models that solve travelers' pain points. Chou emphasizes, "A government agency should be the provider of data, rather than a player of the game."
To traditional firms that are a majority in the tourism business, the Tourism Bureau is endeavoring to help them transform themselves. By helping them make use of subscription-based ERP systems, they can digitize traditional operations. By giving them access to analyzed data, they can benefit from better utilization of hospitality resources and augment their competitiveness. By engaging in discussions, the Tourism Bureau also provides consultation and guidance to help traditional businesses upgrade their offerings to something that customers nowadays are more interested in.
Conclusion
The integration of ICT technology has made travel information that used to be exclusively accessible by the tourism industry now available to the general public. With travel information at their fingertips, people are now growingly opting for self-guided tours. In keeping abreast with the trend, the Tourism Bureau has set the policy to build up a platform to promote widespread availability of travel information. Helping the hosts of small and medium tourism businesses that are not tech-savvy transform themselves will be the Tourism Bureau's goal over the next few years.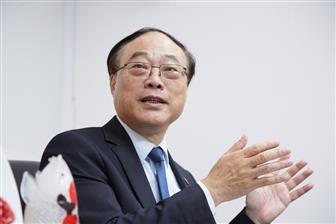 Yung-Hui Chou, director-general, Tourism Bureau