Chilisin demonstrates comprehensive passive components portfolio at Electronica 2018
Press release
Chilisin Electronics Corporation, which has been growing rapidly by strengthening R&D capacity and taking acquisition strategies to build complete passive components solutions in recent years, participated in the Electronica 2018 with its subsidiaries ASJ and Ferroxcube for the first time. Together, the three companies showcased comprehensive portfolios of inductors, resistors, and ferrite materials, aiming to provide high quality and high performance products for the automotive and industrial applications.
Dedicated to providing complete solutions for global customers
According to Jerry Kuo, COO of Chilisin Group, Chilisin was established in 1972 and has been deeply involved in the inductor market for 46 years, accumulated abundant R&D and marketing experience. Passive components are the key components of all electronic products, and material is crucial for the characteristics performance. Over the past decade, Chilisin has invested massive resources in developing in-house powder technology. With the material capability, Chilisin is also one of the very few inductor manufacturers with in-house core self-supply. Moreover, to enhance efficiency by developing own automated production process, Chilisin has built significant competitive advantages in the industry.
With the vertical integration capability from powder, cores, to production process and the complete passive components portfolio extended from inductors, Chilisin is committed to meeting customers' one-stop-shopping needs and becoming a valuable partner for customers. Meanwhile, eyeing that various applications such as IoT, 5G, cloud, and automotive electronics will drive the demands for high-quality passive components and materials, Chilisin will continue to invest and fortify its competitive advantages, in a bid to provide complete solutions for automotive and industrial applications and to strengthen partnerships with the leading customers in each market segment.
At Electronica 2018, Chilisin fully demonstrated its innovation capabilities with the products. In terms of inductors, the complete inductor solutions were showcased for power, RF, and EMI applications, made by four major process technologies, including Wire-winding Technology, Multi-layer Technology, Thin Film Technology, and Molding Technology. Resistor products cover a wide range of applications such as various arrays & network, high precision, anti-sulfurated, and current sensing. Ferrite materials focus on the EMI material and power material required by automotive, solar, and industrial customers, with high-end characteristics such as high impedance, high frequency, and low loss in wide temperature range.
Eyeing the global market
Alex Hsu, Head of Product Development Unit at Chilisin, pointed out that automotive and industrial applications have higher requirements for components, which must be sustained for harsh environments. For example, Chilisin's molding inductor is specially designed for automotive electronics. In-vehicle infotainment systems have been digitalized, which require compact, high-quality inductive components, and molding inductor is one of the best fit for this application.
In fact, with excellent product quality and supply capability, Chilisin's products have been certified and adopted by leading electric vehicle (EV) manufacturers, which is an important affirmation of Chilisin's products.
Alex Hsu emphasized that in addition to commodity products, Chilisin also actively cooperates with customers to develop products that meet their specific specifications. For example, automotive electronics and industrial robots have special design and performance requirements, and efficient time to market is key to success. With its global deployment, Chilisin's R&D team can quickly respond to customer needs, provide samples for testing, solve technical problems, and meet customer requirements, so as to become a long-term, trustworthy partner for customers.
With years of putting effort in the passive components market, Chilisin has been recognized by many global players in the data center, mobile device, consumer electronics, and communication system markets. By participating in the Electronica 2018, Chilisin aims to further expand the European and global markets, seek more new business opportunities, strengthen overseas deployment, and strive to be the best strategic partner for customers.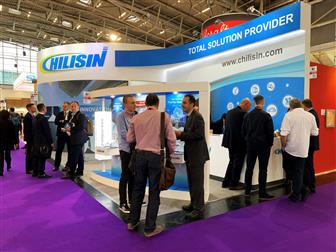 Chilisin strengthens overseas deployment and strives to be the best strategic partner for customers
DIGITIMES' editorial team was not involved in the creation or production of this content. Companies looking to contribute commercial news or press releases are welcome to contact us.