Asus Life, a subsidiary of Asustek Computer, willl cooperate with Taipei's city-run hospitals to offer a smart medical care solution to jointly take care of old people suffering dementia.
The city government has designated seven of its hospitals as sites where enterprises or organizations can experiment their smart medical care solutions on a cooperative basis. Asus Life will work with one of the hospitals according to Jerry Hsu, general manager of the company's Medical IoT Product Business.
Asus Life's smart medical care solution mainly consists of OmniCare, PhenoFinder, Zenbo and AiNurse, Hsu said.
OmniCare is a medical IoT platform to collect biometric data from various instruments and smart wearable devices for shared use in remote medical or health care services, medical research projects or development of precision medicine.
PhenoFinder is a platform to integrate patients' medical records at all hospitals for inquiry and big data analysis.
Zenbo is a smart robot equipped with facial recognition function, and AiNurse is a virtual care-giving robot able to communicate with patients via voice or text.
Asus Life has cooperated with Advantech, QNAP Systems, Galaxy Software Services and Full Enterprise to develop the smart medical care solution since June 2018.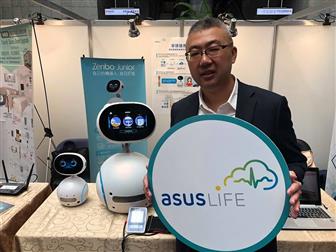 Jerry Hsu, general manager of Asus Life's Medical IoT Prodcut Business
Photo: Mark Tsai, Digitimes, November 2018