Automotive metal mechanical parts embrace growth opportunities arising from autonomous vehicles and ADAS
Sponsored content
The automotive industry optimistically expects Level 3 autonomous vehicles to become mainstream by 2020. Level 3 self-driving cars enable drivers to take their hands off the wheel and feet off the pedals. Level 4 systems can take full control, allowing drivers to take their eyes off the road. However, it may still be hard to believe for most consumers. Self-driving cars will need to have more control on road conditions and enhance their machine learning performance so that they are able to gain more public trust.
Nevertheless, new business models for the commercialization of autonomous vehicles are burgeoning and grabbing market attention, such as self-driving service Robo-Taxi. The development of self-driving cars will no doubt bring revolutionary changes to the automotive market. Industry analysts mark two noteworthy checkpoints - Level 3 self-driving cars hitting the road by 2020 and fully autonomous driving by 2025.
With two years to go until 2020, the industry has been gearing up its preparation for advanced driver assistance systems (ADAS) and Level 3 autonomous vehicles as it generally takes two years to design, test and manufacture a new car model. The new ADAS is estimated to comprise more than 200 electronic control units (ECU), more than 20 sensors, including millimeter wave radars and image sensing devices, in addition to central control and network devices, to be able to cope with complex interactions between the vehicle, pedestrians and traffic signals. To respond to the technological challenges, leading automakers around the globe are stepping up efforts toward the R&D of their own unique smart technologies to embrace the autonomous driving era.
A myriad of electronic control and high-performance semiconductor chips are being used by automotive electronics, powering advances of autonomous driving innovations. This also results in a growing share of costs of automotive electronics components and related mechanical parts in an average vehicle. Many new components with innovative designs are burgeoning and are favored by the supply chain, marking a new growth milestone for the automotive supply chain. The automotive market has seen the incorporation of popular functions originally available on smartphones in in-vehicle infotainment (IVI) systems and electronic instrument panels after they pass automotive safety certification. They have become standard features included in original equipment (OE) on leading car brands. The digital cockpit platform is another innovative concept that integrates all of the T-shape panel, electronic dashboard, and IVI system in one and uses a single processor to handle the in-vehicle control network comprising massive data. These developments aim to turn the future car into a giant computer.
Competition intensifies amid explosive growth in demand for ADAS from China automotive market
The upcoming autonomous driving era will spur a significant growth in the demand for active safety systems. Eye-catching ADAS features coupled with strong marketing campaigns by American and European automakers for their high-end vehicles have made anti-collision, lane change assistance, blind spot detection, adaptive cruise control and vehicle control the much raved-about ADAS functions. Not letting its American and European counterparts get all the glory, the red-hot China automotive market, already having shipments surpassing those to American and European markets to rank No. 1, will see more than 50% of new cars entering the market equipped with ADAS over the next few years. As such, the market is closely watching the growth potential of ADAS-related components.
The competition in the ADAS market represents a pre-battle of autonomous driving technologies. ADAS leveraging a range of radar and sensor technologies combined with use scenario analysis, panorama view around the vehicle, sensor fusion technologies can quickly process and analyze sensor data, thereby instantly making a response to enhance safety on the road. A highly integrated solution combining a robust ADAS processor, digital control board and IVI system needs metal mechanical parts for protection so that they can perform high-precision sensing on the complex surroundings of a vehicle. These in-vehicle box-type metal mechanical parts of various sizes are essential to reliable ADAS operation. They are the small parts that make a big difference.
Offering both premium quality and abundant capacity, Getac embraces explosive opportunities
The Taiwan automotive supply chain has a number of "hidden champion" firms. Among them, Getac, known for being one of the world's top three rugged computer suppliers, engaged in collaboration with German-based Volkswagen Group in 2017 to use Getac's rugged computers to craft Volkswagen's vehicle diagnostics systems. The deal enabled Getac to establish a direct service relationship with Europe's largest automaker. As a matter of fact, Getac has also made significant advances toward the automotive OE market with another product line – die-cast aluminum alloy automotive parts manufactured by its key subsidiary. The die casting process is characterized by quickly injecting molten alloy under high pressure into a mold cavity. The molten alloy then solidifies under pressure and the final shape is formed. The technology has the advantages of easy-to-shape, high yield and high temperature resistance. Furthermore, aluminum alloy is lightweight, rigid and reliable. It can be easily melted and reused to increase the recycling rate of scrapped automotive parts, making it particularly suitable for manufacturing ADAS and self-driving system components.
Mechanical parts, mainly glass fiber and automotive metal stamping parts, contribute 40%-50% of Getac's revenues. Automotive mechanical parts account for 10-15% of Getac's revenues with safety belt spool andspindle shipments especially catching market attention. According to Getac chairman James Hwang, Getac produces 12 million to 14 million safety belt spools and spindle per month, annual capacity topping 140 million units. Suppose one vehicle uses four safety belt spindles. It means that Getac supplies the product to 36 million vehicles every year. As the global automotive market sees approximately 80 million new cars a year, it can be assumed that Getac holds more than 40% of the safety belt spindle OE market, outperforming the competition.
In the past year, Getac has been stepping up efforts toward ECU housing and bracket for ADAS systems, for example, windshield wiper and air bag controller housing, camera housing, ECU housing and bracket, PCB substrate, new-energy car electricity generator casing, heat sink, and rechargeable battery casing. Hwang is cautiously optimistic that Getac's automotive mechanical parts business will make major advances over the next two to four years. The company has set a target to double its automotive business revenue in three to five years.
To ride the growth momentum arising from ADAS developments, Getac undertook a capacity expansion plan last year, simultaneously increasing production capacity of its plants in eastern China and Hanoi, Vietnam. With a large number of automated production machines in place, capacity will expand 20% in the first phase. Additional capacity may be added based on order volumes. The steady expansion pace will enable Getac's automotive business revenue to maintain robust growth. Hwang spoke in great enthusiasm about Getac's ability to independently develop automated production machinery and design manufacturing process. Take its Vietnam plant with a high level of automation for example. Getac's automation and process design capability enables record-breaking production capacity with minimum labor while guaranteeing premium product quality. This is why Getac is favored by leading car brands and tier-1 automotive parts suppliers and selected as their partner in technology.
Getac's manufacturing and operation teams have crafted advanced automated production equipment and designed high-efficiency production processes, which enable Getac to meet customer's urgent demand for mass production. Getac also demands premium product quality and continues to make improvements and incorporate innovative processes to stay ahead of evolving and challenging customer needs. This way, Getac is able to deliver high-value services to world-class car brands and tier-1 suppliers.
In response to explosive growth of new types of opportunities arising from ADAS and Level 3 autonomous vehicles, wide-ranging mechanical housing and parts are being used in never-before-seen applications. Custom designs are being made and production capacity is also flexibly planned to accommodate customer needs. At this time when ADAS and Level 3 autonomous vehicles are getting ready to enter design validation and mass production, components designed by suppliers are beginning to get tested and validated against the new standards and requirements. With today's cars transitioning from traditional power to autonomous driving, the automotive market is exactly the type of market that Getac is targeting. Its high value-added characteristics and enormous growth potential is particularly grabbing attention worldwide. Leveraging its extensive service experiences, Getac has built an operation team truly capable of resolving customers' problems, which will help Getac capture tremendous ADAS and autonomous driving opportunities.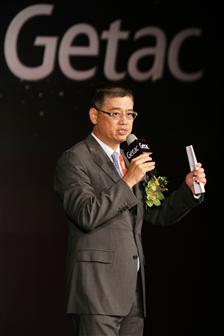 Getac chairman James Hwang
DIGITIMES' editorial team was not involved in the creation or production of this content. Companies looking to contribute commercial news or press releases are welcome to contact us.