China's No. 1 hardware brand Colorful Technology joins forces with Chaintech to exhibit its high-end brand iGame series at booth M1019A at COMPUTEX 2017. Tailored for gaming, iGame is Colorful's only graphics card series with a high-end market position and a No. 1 market share in the brand market. It is officially launching on the worldwide market in 2017 with shipments to Southeast Asia and Korea rapidly on the rise.
Colorful has 20 years of experience in the DIY computer market and has accumulated extensive R&D capabilities in graphics cards, motherboards, and storage devices. Colorful is able to build on top of the solid experience and continue to introduce innovative and revolutionary product designs that amaze the industry. This has given rise to Colorful's No. 1 market share in the brand graphics cards market 14 years in a row. Furthermore, Colorful participates in a variety of gaming events to engage gamers. It not only organizes gaming competitions through Colorful Gaming Union itself but also takes part in international e-sports competitions to boost the iGame brand awareness.
At Computex 2017, Colorful will showcase iGame GTX1080Ti Vulcan X OC - the world's first graphics card with an LCD display, in addition to iGame GTX1080 Vulcan X OC, iGame GTX1070 Vulcan X OC and iGame GTX1060 Vulcan X OC 6G of the Vulcan series. Furthermore, the high-end iGame GTX1080Ti Kudan that opens the eyes of heavy gamers will also be on exhibit along with the Neptune and Customization series.
Colorful's iGame GTX1080Ti Vulcan X OC is powered by the advanced Pascal GP102 GPU, featuring a one-key overclock of 1620MHz and a boost clock of 1733MHz and 11G GDDR5X 352-bit memory. It is equipped with a high-performance power supply for the GPU core and memory, the SWORIZER cooler, 1.68 million color-capable RGB lighting, and PCB protected with high-strength alloy. As a most prominent feature, the cooler is built in with the iGame Status Monitor which shows the core frequency, core temperature, fan speed and memory usage during operation. The core usage and load level is displayed in the form of a load bar so the user can stay aware of the current operating condition of the graphics card.
Visitors to COMPUTEX will also have a chance to see iGame CP600 - a PCI-E solid-state drive purpose-built for gaming by the outstanding iGame R&D team and also the first SSD of the iGame brand. The original design of iGame CP600 is based on "The Lord of Loading" concept with heat dissipation fins specifically for gaming, the eye-catching alloy laser carved iGame logo with a diagonal pattern, and the flame-like dazzling light decorations, making it a top choice for professional gamers. It supports high-speed interface and high-performance heat dissipation to achieve fast cooling.
Colorful will continue working on technology innovations, channel expansions, brand publicity enhancements and international market developments. As Colorful places great importance on its new product announcements and exhibitions at COMPUTEX 2017, Shan Wan, Chairman of Colorful, will personally attend Computex 2017 to exchange views with the industry and Colorful extends a warm welcome to Computex visitors to booth M1019A.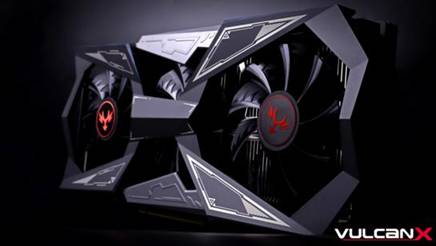 Colorful iGame GTX1080Ti Vulcan X OC graphics card