Extensive R&D capabilities enable APD Group to create strong presence in IT power supply market
Sponsored content
Since its establishment in 1994, APD Group has been cultivating the power supply market and expanding into different sectors for over two decades. APD Group now comprises three business units - the power system business, renewable energy business and lighting business, fully committed toward the goal of becoming a leader in the fields of power products, electronics and renewable energy.
To mark its commitment and the start of a new phase, APD Group recently unveiled a whole new green energy corporate identity logo. With the launch of the brand new corporate image, APD Group makes its debut at this year's COMPUTEX Taipei, showcasing four main types of power products from its power system business, respectively for IT, network communication, Medical, and industrial applications and particularly highlighting power supplies for IT products. "We hope to establish closer and tighter collaborations with leading IT companies by leveraging our edge in manufacturing unique, slim, high-performing and custom-made products," indicated Chia-Ming Tsai, general manager, APD Group.
Unrivalled design flexibility caters to customer needs
Based on the objective, APD Group will exhibit a series of desktop, wall-mounted and embedded power supplies for IT equipment. These products featuring ultra-slim, compact and colorful designs comply with safety regulations and EMC requirements in multiple countries around the world. They are suitable for a wide range of IT devices including printers, external storage devices, displays, TVs, notebook PCs, tablets, all-in-one PCs, mini PCs and Blu-ray & DVD players. "We are capable of providing a high level of custom design flexibility. Our wide-ranging product specs enable us to stand out from the competition," stressed Tsai.
APD Group's customization capabilities are founded on its persistence in accumulating independent R&D experiences. Tsai emphasized, "People and technologies are APD's most valuable assets, not capital." APD Group is reportedly among the few Taiwan-based power supply vendors still employing a sizable R&D team, its product researchers in China and Taiwan exceeding 200.
Devoting tremendous resources into product research over the years, APD's custom design capabilities are already well recognized by customers. It has successfully gained a significant market share in the network communication sector with its power supplies widely used in modems, routers, switches, IP phones, IP surveillance equipment, card readers, set-top boxes and other network communication devices.
Strong network communication capabilities support the penetration into medical and industrial sectors
Leveraging its extensive experiences and competitive edge accumulated through the development in network communication, in addition to its much raved-about custom design flexibility, APD is performing brilliantly in medical and industrial sectors. Tsai pointed out, "Medical products are characterized by their diversity and stringent safety requirements, which are exactly where APD excels. In fact, APD has become one of the leading power supply providers for medical products."
In terms of its planning for the medical sector, APD obtained ISO13485 certification, a quality management system standard specifically for the medical devices industry. Each APD product is strictly ISO 13485 compliant including the design management, environment control, special procedure control, traceability, record archiving and regulation conformance. Furthermore, all APD power supplies for medical products are also IEC60601 compliant.
As to industrial applications, ranging from 10W to 500W power output and 90V to 264V input voltage, APD power supplies meet the safety regulations and EMC requirements in multiple countries around the world and therefore satisfy a variety of uses and global market needs. Tsai further commented, "APD will devote additional efforts and resources into the development of DIN Rail UPS systems to respond to the growing demand by factory automation." APD's DIN Rail UPS systems can provide back-up power for PLC/IPC equipment when factory power supply becomes unstable or interrupted so as to help raise overall system reliability.
Through decades of development, APD has built up competitive advantages in key technologies including modular design, using a high ratio of shared components, automated power transformer design, product safety and endurance, and EMC. Looking forward, APD Group will stay the course by continuing to strengthen its technologies in power supply and electronics and make itself a high-tech leader in specific application fields with premium quality and flexible design and manufacturing capabilities.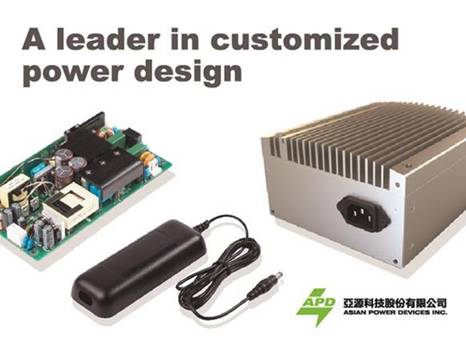 APD Group's customized power supply products