The new industrial-grade PCIe SSD and high-security AES SD card series are two of the innovative products that Innodisk will present at this year's Computex in Taipei. In addition, the new InnoREC and Boot-up drive series will focus on surveillance and server solutions respectively. These innovations along with the new Innodisk Cloud Administration Platform (iCAP) and our DDR4 2666 and Very Low-Profile DRAM modules make up the core of Innodisk's next step towards software and hardware integration.
The latest innovations
By combining the NVMe protocol and 3D NAND flash technology, the new PCIe M.2 SSD sports significantly increased performance and capacity. The compact M.2 form factor which is pushed by Intel allows for an easy integration into most systems. By also utilizing Marvell controllers, this module will help usher in the next generation of embedded and industrial storage. The 3D NAND technology has also been incorporated into many of Innodisk's SATA form factor series.
The new AES SD card series integrates the US government standard 256-bit AES encryption, making it one of the most secure SD products on the market. The encryption key is randomly generated and is unknown to both the user and manufacturer. The encryption process is also fully hardware-based and does not impact system operations when encrypting or decrypting data.
As the number of interconnected devices keep growing under IoT, management is becoming increasingly challenging. To address this Innodisk is launching the cloud management software iCAP to help system operators monitor and remotely control all their cloud-connected devices.
Automation
Innodisk can offer a wide variety of customizable solutions to meet the demands of Industry 4.0. The 3ME4 SSD, 2666MT/s DDR4 SODIMM, as well as the EMUI IO expansion card and the new iCAP cloud management software make up the individual pieces of the comprehensive Innodisk solution. With all these pieces in place, the user can easily monitor and control each connected device, making for a true smart-factory solution.
Server
The new SATADOM Server Boot-up Drive series are compact, high-performance devices which uses Cable-less SATA Power technology to simplify server design. The Boot-Up Drives also implement evolved firmware algorithms that greatly extend data retention. With a height less then 1U and by using dedicated SATA connectors, server scaling is made easy while also freeing up more space for storage devices.
Innodisk's Server DIMM series comprises Very Low-Profile (VLP) and MINI DIMM such as 2666 MT/s 16GB MINI DIMM-VLP and 8GB MINI DIMM-VLP. These high-capacity DRAM modules are energy-efficient and designed to allow maximum airflow, thus keeping server maintenance costs to a minimum while simplifying server scaling.
Surveillance
With lower prices and extended longevity, SSDs are increasingly popular in the quickly growing surveillance market. The InnoREC feature set comprises multiple form factors that are optimized for surveillance applications. The RECLine feature combines several technologies that together deliver the optimal write performance for data recording.
DRAM modules such as 2666 MT/s UDIMM-VLP and 32GB RDIMM-VLP offer high performance and small form factors that are perfect for surveillance applications. Innodisk's isolated expansion cards provide reliable and robust PoE expansion that is certified and tested for harsh environments. With a large set of form factors and interfaces, our PoE expansion cards are easily integrated into any system.
Aerospace and Defense
InnoRobust is Innodisk's DRAM and flash storage feature set designed for Aerospace and Defense applications that complies with MIL-STD-810G. It incorporates technologies and design features aimed at maximizing operability in extreme conditions. In addition to this, our data security features can delete and even physically destroy data in the blink of an eye, ensuring that vital information does not fall into the wrong hands. Our aerospace and defense storage devices also come with hardware integrated 256-bit AES cipher, further increasing data security.
The customized, high-performance XRDIMM is the best choice for operations in extreme conditions. With a 300-pin connector and dual mounting holes, the module can be securely attached to any system.
Innodisk's booth is at 1F, J0818, Nangang Exhibition Hall.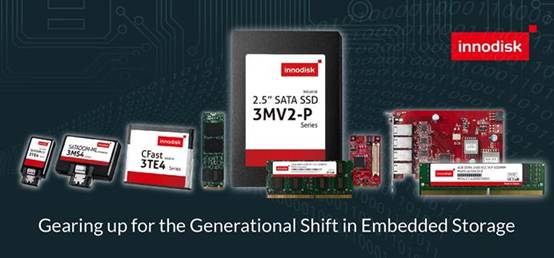 About Innodisk
Innodisk is a service-driven provider of flash memory, DRAM modules and embedded peripheral products for the industrial and enterprise applications. With satisfied customers across the embedded, aerospace and defense, cloud storage markets and more, we have set ourselves apart with a commitment to dependable products and unparalleled service. This has resulted in products, including embedded peripherals, designed to supplement existing industrial solutions and high IOPS flash arrays for industrial and enterprise applications. The expanded business lines are leading our next step in being a comprehensive solution and service provider in the industrial storage industry.
Founded in 2005 and headquartered in Taipei, Taiwan, Innodisk supports clients globally with engineering support and sales teams in mainland China, Europe, Japan, and the United States. With abundant experience and an unrivaled knowledge of the memory industry, Innodisk develops products with excellent quality, remarkable performance, great cost-efficiency, and the highest reliability. For more information about Innodisk, please visit http://www.innodisk.com.