Toshio Maruyama of Advantest receives SEMI Marketing Excellence Award
Press release
Leading semiconductor test equipment supplier Advantest Corporation (TSE: 6857) has announced that Toshio Maruyama, senior executive advisor at the company, is the 2017 recipient of the SEMI Sales and Marketing Excellence Award.
The SEMI Sales and Marketing Excellence Award was established in 2000 to recognize individuals who have created and/or implemented marketing programs that improve customer satisfaction and contribute to the development of the semiconductor equipment and materials industry. Mr. Maruyama was selected to receive the award for his leadership in enhancing reliability in semiconductor Automated Test Equipment (ATE), which not only differentiated Advantest from entrenched competition, but also furthered the development of the semiconductor industry overall, as well as for his contributions over many years to multiple industry organizations. Mr. Maruyama is the 20th person to receive this award.
SEMI presented the award to Mr. Maruyama in a ceremony at SEMICON Japan on December 14 in Tokyo. "Mr. Maruyama is recognized both for his innovative marketing leadership and his steadfast commitment to guiding industry associations. Today, SEMI and its membership recognize Maruyama-san for his contributions to the success of our industry," said Denny McGuirk, president and CEO of SEMI.
Accepting the award, Mr. Maruyama said, "It is a great honor to receive this renowned award. I believe that presentations of papers, the development of groundbreaking business models, and participation in industry groups are all important corporate activities, which not only benefit corporate branding, but make our industry more vibrant. I am proud that this long-held belief has been recognized."
For further information, see http://www.semi.org/en/node/117231
About SEMI
SEMI connects more than 2,000 member companies and more than a quarter-million professionals worldwide to advance the science and business of electronics manufacturing. SEMI members are responsible for the innovations in materials, design, equipment, software, and services that enable smarter, faster, more powerful, and more affordable electronic products. Since 1970, SEMI has built connections that have helped its members grow, create new markets, and address common industry challenges together. SEMI maintains offices in Bangalore, Beijing, Berlin, Brussels, Grenoble, Hsinchu, Moscow, San Jose, Seoul, Shanghai, Singapore, Tokyo, and Washington, D.C. For more information about SEMI, visit http://www.semi.org/ and follow SEMI on LinkedIn and Twitter.
About Advantest Corporation
A world-class technology company, Advantest is the leading producer of automatic test equipment (ATE) for the semiconductor industry and a premier manufacturer of measuring instruments used in the design and production of electronic instruments and systems. Its leading-edge systems and products are integrated into the most advanced semiconductor production lines in the world. The company also focuses on R&D for emerging markets that benefit from advancements in nanotech and terahertz technologies, and has introduced multi-vision metrology scanning electron microscopes essential to photomask manufacturing, as well as a groundbreaking 3D imaging and analysis tools. Founded in Tokyo in 1954, Advantest established its first subsidiary in 1982, in the USA, and now has subsidiaries worldwide. More information is available at http://www.advantest.com/.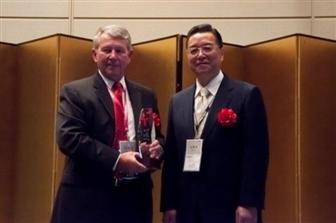 Left: Denny McGuirk, president and CEO of SEMI. Right: Toshio Maruyama, senior executive advisor at Advantest.
DIGITIMES' editorial team was not involved in the creation or production of this content. Companies looking to contribute commercial news or press releases are welcome to contact us.