ProLogium Technology today announced that it has been named a CES 2017 Innovation Awards Honoree for Multi-Functional Cell. Products entered in this prestigious program are judged by a preeminent panel of independent industrial designers, independent engineers and members of the trade media to honor outstanding design and engineering in cutting edge consumer electronics products across 28 product categories.
ProLogium's Battery On Flex (BOF) technology is the key that makes Multi-Functional Cell so perfect. With BOF, components like chips, sensors, circuits and golden-fingers…, etc. can directly layout on flexible substrate of ProLogium li-battery. Higher efficiency using the space of modules, reducing module thickness, increasing the battery capacity, simplify assembly processes, increasing automation and reducing process costs. It fits the trend of smaller, lighter electronic devices, wearable applications, soft electronics, and ultrathin advantage that smart cards need.
Nowadays, people are afraid their credit cards are stolen and use them illegally, so most of customers need security system with their cards. Multi-Functional Cell provides power and sensors, chips, and varieties circuits within ultrathin thickness for identification and security functions for card applications like smart display card, finger-print sensor card, Bluetooth card, multifunction/all-in-one card and OTP card. Same as card applications, Multi-Functional Cell is also suitable for applications like ECG/EEG/EMG devices for healthcare required sensing circuit and power supply. And thin thickness required like wearable devices with sensors as well. In conclusion, Multi-Functional Cell can minimize the volume and decrease weight of the product, maximize battery area in devices to provide maximum capacity than any other conventional Li-battery.
Please visit our booth and witness this mile stone with us. Our booth is #44067 (Sands Expo). Looking forward to seeing you!
About Prologium Technology:
ProLogium's core technology, Lithium Ceramic Battery (LCB) is the first one and only one that commercialized solid-state battery in the world. It overcomes the solid-state natural limit of high inner resistance and improves C-rate performance which are bottle necks of all solid-state Li Battery for last 36 years, LCB has higher uniqueness and technicality than any other conventional batteries. Extremely safety, great flexibility, high durability and ultrathin thickness are strengths which make LCB adapted in all kind of products. Many famous battery cell makers in the world like Samsung, SONY, Panasonic, NEC, Toyota, etc..., are eager to make battery like LCB but in vain after years. ProLogium's invention, LCB technology, becomes a benchmark and pioneer in battery industry that those cell makers follows.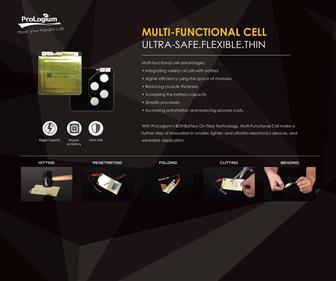 ProLogium Named as CES 2017 Innovation Awards Honoree
DIGITIMES' editorial team was not involved in the creation or production of this content. Companies looking to contribute commercial news or press releases are welcome to contact us.