DTS shapes immersive premium audio experiences with four leading technologies
Sponsored content
With over 20 years of development in digital cinema and home theater sound technologies, DTS has been dedicated to bringing consumers premium audio experiences whether at home, in the car, on the move or in the theater. DTS technologies enable smooth and seamless enjoyment during the transition between different use scenarios.
DTS has introduced stunning next generation audio solutions including Headphone:X, Play-Fi and DTS:X in the last two years. The acquisition of iBiquity Digital at the end of 2015 has helped DTS secure the HD radio technology that holds a large share of the in-vehicle infotainment system market in North America. DTS is now pillared on a foundation built up of four leading technologies enabling applications of DTS technologies ranging from TV, home theaters, mobile devices, streaming services to in-vehicle systems, delivering high-quality immersive audio experiences to consumers.
Aaron Chen, general manager of sales at DTS Taiwan Branch Office, indicates DTS will showcase its latest achievements in its four major technologies at Computex 2016 and present to visitors how these audio solutions can enhance their audio entertainment anywhere.
AVR brands supporting DTS:X together hold more than 90% of the AVR market
DTS:X breaks through the barrier of traditional Ultra HD(UHD) surround sound processing technology and transitions from having 5.1 and 7.1 sound channels set on one platform to adding a height channel to enable a whole new 11.1 or 11.2.1 sound channel experience. Several Denon, Onkyo and Yamaha AVRs currently support DTS:X via firmware updates, and several more brands including Acurus, Pioneer, ARCAM, ELITE, Marantz and Pioneer will be releasing updates over the next several months. More than a dozen Blu-ray Discs with DTS:X audio have been released, with several more to be announced this year. Titles released thus far include The Big Short, Ex Machina and The Last Witch Hunter.
In terms of theatrical content, there have more than 20 Hollywood and Chinese films exhibited in DTS:X audio so far, such as blockbusters Minions, The Hunger Games Mockingjay Part 2, Everest, The Martian, The Mermaid and The Monkey King 2. Several more films are expected to be released in DTS:X sound in the second half of the year. In addition, DTS is working with leading global digital cinema solution provider GDC and has installed more than 100 DTS:X theaters in the US and China. The number is expected to increase to more than 200 by the end of the year.
DTS has also made significant achievements with Headphone:X since 2015. High-end mobile devices from known brands including ASUS, Acer, HTC and Huawei are adding support for Headphone:X technology with the goal to bring the premium home theater audio experiences to mobile devices. For example, more than 10 models of ASUS tablets have enabled support for Headphone:X technology. In terms of headphones, the Logitech G933 and G633 gaming models embed a built-in Headphone:X chip, as do gaming headsets from Turtle Beach, Steel Series and Triton Katana.
A popular music streaming platform is to announce its support for Headphone:X
Chen reveals that after DTS and QQ music formed a licensing partnership in 2015, another online music streaming platform popular in Taiwan, Japan and Southeast Asia has also decided to join forces with DTS, with an announcement scheduled for June. Then, consumers will only need to use a Headphone:X-enabled mobile device and select preferred audio settings on a Headphone:X app and they will be able to enjoy top-quality streaming music from the service platform with in-ear, circumaural or supra-aural headphones.
When the consumer returns home, he or she can use existing Wi-Fi connection at home and get streaming music from online music streaming service providers including Spotify, Pandora, Rhapsody and Tidal through a mobile device or PC. Then, with DTS Play-Fi, the user can wirelessly stream the music to every speaker in the home and enjoy lossless playback quality, which is far superior to Bluetooth streaming. Play-Fi speakers partners include widely known brands such as Paradigm, Polk, MartinLogan, Definitive Technology and McIntosh. The Play-Fi technology enables seamless streaming across several speaker brands. Furthermore, consumers with ASUS or Acer mobile devices including built-in Play-Fi drivers can remotely control speakers to play back music.
HD Radio, a recent addition to the DTS technology portfolio, comes with FM Plus, which is similar to an application program that can be installed on a mobile device to allow users to listen to flowing digital radio broadcast without consuming too much bandwidth. However, this technology is more suitable for places such as India or Mexico where wireless connection speed tends to be low. Mobile devices in Taiwan can be pre-loaded with FM Plus to enhance product appeal and boost sales in emerging countries.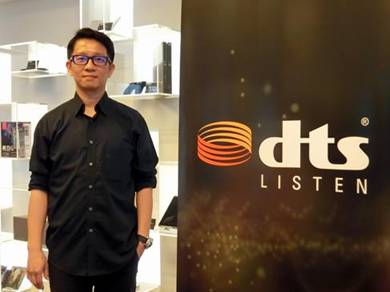 Photo: Aaron Chen, general manager of sales at DTS Taiwan Branch Office