AVEXIR Technologies Corp., the world's memory brand in exclusive patented breathing LED & plasma tube technology products, announced new product series at 2016 Computex Taipei, which will bring lighting frenzy again.
AVEXIR had officially expanded product line to SSD and launched the world first LED SSD: S100 series SSD last year. Henceforth customers are looking forward to what will come out after. Certainly, Avexir never stops moving forward and keeps developing and researching. At 2016 Computex Taipei, AVEIXR will bring you more new products and new product concepts.
Firstly, AVEXIR is excited to introduce you to a new SSD, M100 series SSD. The target audience of M100 series SSD is totally different from those of S100 series SSD. It aims to business people and consumers who need portable memory disks. M100 series SSD is a dual interface SSD, with SATA III and the newest USB 3.1/ TYPE-C support. By means of USB 3.1 high-efficient transmission, external portable hard drive is no longer subject to transmission interface influence. Also, it can 100% deliver SATA III superior read/write performance, the read speed up to 540MB/s, and the write speed reaches up to 450MB/s. It will be available in 120GB /240GB/ 480GB capacities. As to product appearance design, it is only 7mm thickness and with robust metal material housing, also adding leather texture on the top to enhance the quality. In addition, it has RGB LED lighting effect, which stands out the moment you take it out from the suit pocket.
Secondly, it's Raiden PCIe M.2 SSD series. AVEXIR has been modifying, polishing and even redesigning it after its conceptual model was displayed at COMPUTEX Taipei last year. From PCB, product martial to appearance design, AVEXIR takes user-experience, and other design concepts into account and to make sure mass production. Raiden PCIe M.2 SSD supports M.2 AHCI SSD with high-speed PCI-Express interface, and shares bandwidth with PCIe Gen 3 x4, theoretically speeds of transmission up to 2000MB/s. Exchangeable M.2 design enables users randomly choose the speed and capacity they want. Also, it supports 128GB-1TB M.2 SSD with AHCI interface, which allows some old motherboard chips set can have free-driver to enjoy high-speed SSD performance. Moreover, Raiden PCIe M.2 SSD is with AVEXIR exclusive patented technology of plasma tubes, the lighting effect will be definitely the focus of your PC.
Last but not the least; it is the new member of Raiden Family: Green Tesla, the most anticipating product. AVEXIR is proud to launch Raiden series products, including Raiden series and Red Tesla, which have become the most popular and best-selling of AVEXIR memory products. However, blue and red plasma tube lighting effect cannot meet everyone's needs. Therefore, AVEXIR has secretly showcased green plasma tube lighting effect in CaseMod builds around the world and it triggers people's curiosity of what Green Tesla is. AVEXIR will officially showcase Green Tesla at 2016 Computex exhibition. Comparing with original Raiden series with enthusiastic character, Green Tesla shows the sense of mystery. Due to the trend of switch to DDR4, Green Tesla will only release DDR4 version and start with 2666MHZ dual channel 16GB capacity. AVEXIR believes that it can meet users' needs at performance, capacity and visual effect.
Apart from our latest and innovative products, AVEXIR is going to held lots of interesting activities and special events this year. Also, we have ten unique & special CASEMODs here at AVEXIR booth for visitors closely experiencing those awesome works. Come to Avexir booth for more info. Let's meet AVEXIR at 2015 COMPUTEX TAIPEI from 5/31 to 6/4. (Booth No. I0818) For more information, visit AVEXIR official website page http://www.avexir.com.tw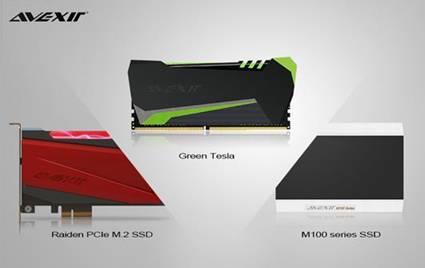 Photo: AVEXIR announces M100 series SSD, Raiden PCIe M.2 SSD and Green Tesla