Join GIGABYTE at Computex 2016: Discover the future of compute
Press release
During this year's Computex (May 31 to June 4) GIGABYTE will unveil its refreshed line-up of Server, Workstation and IoT devices. With 30 years of experience, GIGABYTE power all computing devices from the smallest Internet of Things Gateway, to powerful workstations to entire datacenters, all on display on our booth in the Taipei World Trade Center (TWTC) Hall 1, Booth D0002. Enjoy the beauty of the small form-factor EL-20 series IoT Gateways or be impressed by our Legacy or RackLution (Open Rack) products. With technology ever evolving and new steps in compute and storage technology right on our doorsteps, it is good to see how GIGABYTE can help you prepare for the future of computing.
Mainstay GIGABYTE Motherboards
GIGABYTE's Forte is, of course, the motherboard. With over 30 years of experience in designing and producing these core components, GIGABYTE's Workstation and Sever motherboards are ready for the newest high-end 160W 36-core Intel Xeon CPUs as well as low-power, workload optimized solutions. Both MW70-3S0 and MW50-SV0 support the latest Xeon E5 V3/V4 CPUs for maximum processing power. With support for Triple SLI, DDR4-2400 speed, regardless of the amount of occupied slots, and a dozen of more of storage ports, these workstation boards provide the power and expansion options you look for in a first class motherboard. For a balanced choice in cost and power, the MW21-SE0 is a price-conscious option for Intel Xeon E3 V5 processors.
GIGABYTE Server Technology
The MB10-DS0 is an excellent example of GIGABYTE's dedication to engineering. This Mini-ITX motherboard houses an Intel Xeon D-1541 Octa-core CPU and 4 DDR4-2400 DIMM slots on top of dual Intel Gigabit LAN adapters. Other models also support various additional network options like dual 10GB/s SFP+ ports. All MB10-DS0 come with on-board graphics, leaving the PCI Express slot open for an additional adapter. This makes the MB10-DS series of motherboards an excellent option for small form factor, high performance servers.
Flexibility in Internet of Things
As part of the Internet of Things Alliance, GIGABYTE is dedicated to deliver the same standard of durability as it has in all its other products. The newly refreshed EL-20-3700-32GB is an excellent example of intelligent design. Powered by a Pentium processor and offering a slew of connectivity options, including Wi-Fi, 3G, BlueTooth, and dual Gigabit LAN, it can fit virtually anywhere thanks to the acceptance of both 12V and 19V power supplies. With USB3.0, USB 2.0, GPIO, and Serial connectors the ability to connect sensor or controllable devices surpasses any other device in its class.
Taipei 101 VIP Demonstrations
In a special suite on the 36th floor of the famous Taipei 101 building, GIGABYTE demonstrates various real world compute scenarios. With live demos of Distributed storage powered by the D120-S3G, Video Transcoding with the G190-H44 and a Virtual Machine cloud platform with the H270-T70, there are plenty of real-world examples that visualize GIGABYTE's vision and get feedback on. These ideas build on GIGABYTE's philosophy to not only reduce the TCO of our customers, but do that true affordable products that deliver industry-leading performance.
Gigabyte MW70-3S0 server motherboard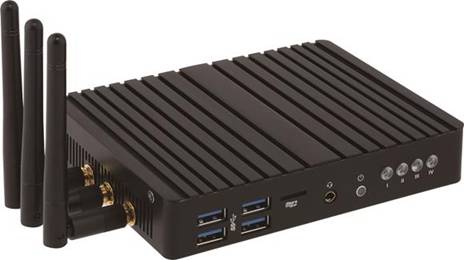 Gigabyte EL-20 IoT gateway
Visit GIGABYTE at TWTC Hall 1, Booth D0002.
Media Contacts:
YY Hsu, yy.hsu@gigabyte.com
GIGABYTE Technology
+886-8912-4000
About GIGABYTE
GIGABYTE, a global leading brand in the IT industry, offers a broad product portfolio including Motherboards, Graphics Cards, PC Components, PC Peripherals, Laptops, Desktop PCs, Network Communications, Servers and Mobile Phones. Since its founding in 1986, GIGABYTE has taken the lead in the world's motherboard and graphics card innovations and been internationally recognized by National Quality Award, Taiwan Excellence Award, Asia Info Tech 100, and as a Taiwan Top 20 Global Brand. With the idea to "Upgrade Your Life," GIGABYTE creates innovative digital solutions that completely satisfy consumer needs and desires. Please visit www.gigabyte.com for more information.